Profile for
sarahmariacecilia
(3 stories) (105 posts) (karma: 165 points)
Sarah D
Only registered users can see email addresses
2011-06-01
United States
Texas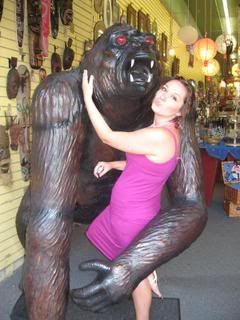 I'm Sarah and I'm 22 years old. I have always been interested in the paranormal. In no way am I an expert in the least but I'd like to think I have a good head on my shoulders and can offer as much sound advice as possible. I'm a Christian and very much believe in the paranormal. There are just too many people experiencing things for it to all be made up! That is why I'm here, to further my knowledge and gain more insight into all of the different kinds of paranormal entities.:) Hope to make some friends here also!
Do for this life as if you live forever, do for the afterlife as if you die tomorrow.
-Ali ibn Abi Talib
Favorite Ghost Stories
Favorite stories are bookmarked with the little heart icon on the top right corner of a ghost story.
Ghost Stories from sarahmariacecilia
Hands On My Windshield on 2011-07-20
I drive a 2005 Honda Civic, and usually, it isn't very clean. I'm not only an artistic type, but I'm also always rushing from place to place, so in general my spaces are semi messy. So, when I had time on a lunch break to go wash my car, it was a big deal. That whole day I drove around enjoying my f...
Joke Loving Spirit on 2011-06-27
This past weekend, I went down south to my family's farm. I've been going there at least twice a year since we moved to Texas from Canada when I was 3. Its beautiful land and there is a big modern farm house that we all stay in when we go. Just some background about the feelings that I have abou...
It Watched Me While I Slept on 2011-06-01
I've had quite a few strange happenings to write about on here, but I'm not sure where to start... Starting from about when I was 11 years old, I would wake up in the middle of the night and feel like something was near to me. I lived in a house with just my parents and my brother and they would ...
Last 20 posts from sarahmariacecilia