Profile for
SirenBelva
(7 stories) (64 posts) (karma: 22 points)
2012-09-12
United States
Tennessee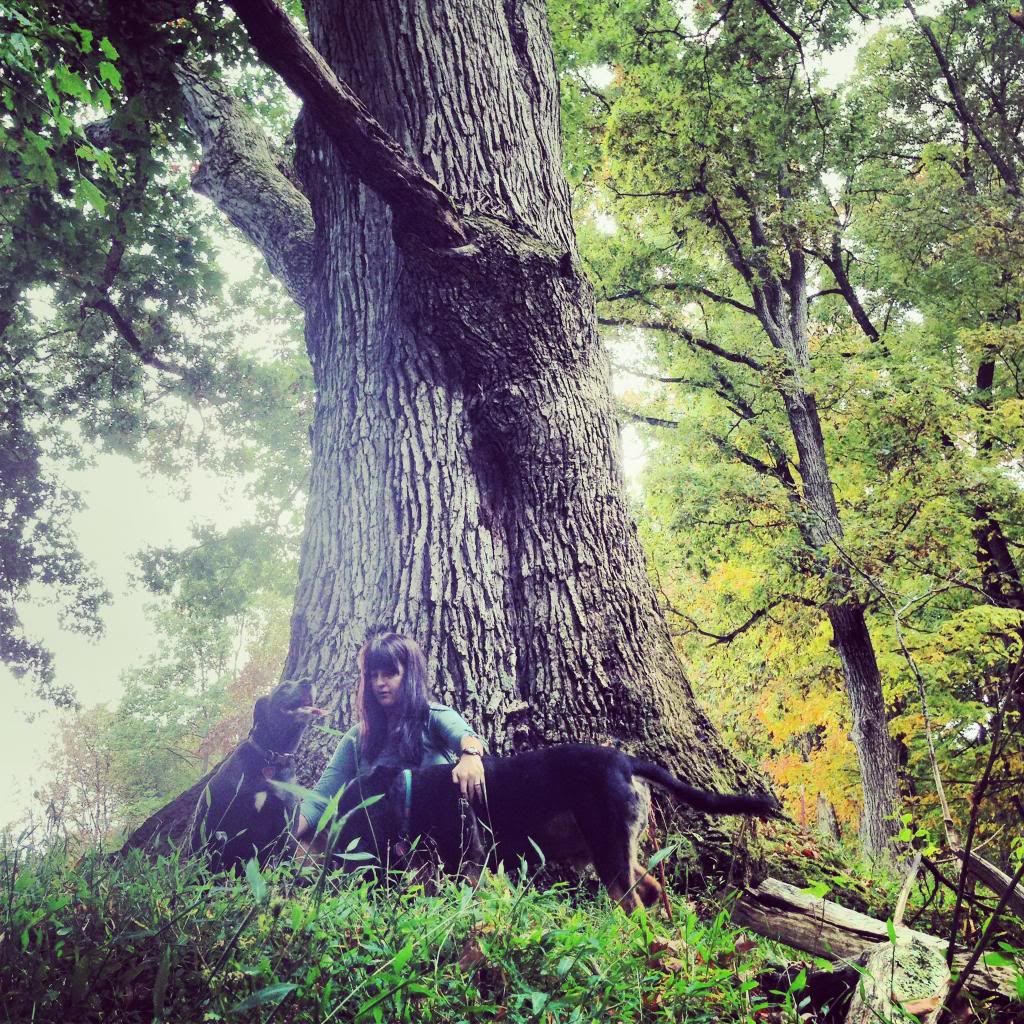 Left: me, my favorite tree on my family's farm, and my crazy puppies (including my "gargoyle puppy," Fern on the left). I live in East Tennessee in the heart of Appalachia. I'm sensitive to many things around me even though admittedly I am sometimes scared by paranormal experiences. I would certainly not say that I regularly seek them out. I love history and I enjoy old places and things. I love animals, hiking and frolicking in nature. I resonate very strongly with the '20s era for some reason.
Favorite Ghost Stories
Favorite stories are bookmarked with the little heart icon on the top right corner of a ghost story.
Ghost Stories from SirenBelva
Yellow Eyed Dog on 2013-10-14
My husband and I have a Labmaraner if you will, or half Labrador, half Weimaraner. Fern is extremely sweet but she can also be really creepy. We call her our gargoyle dog because she will stare into corners of our century-old rental house with her head lowered below her shoulders. If you get up late...
The Woman With Braids on 2013-10-14
I am from the oldest town in Tennessee. There are countless old stage roads and historical buildings that hold memories of days, people, and events long past. I have found many Native American artifacts--arrowheads and pottery on the family farm near a natural spring. My husband says there is a very...
The Murder Victim on 2013-10-14
In the early nineties there was a murder that occurred in the basement of the house across the road from my mother's house. The road that Mom lives on was very quiet and desolate at that time. For many years there were no neighbors for miles. I remember my mother being happy that they were build...
The Nighttime Apparition on 2012-10-09
In February of 2009 one of my best friends tragically committed suicide by hanging himself. I was one of the last people to see him alive before he died and his death was absolutely devastating to me. I used various strategies to cope with my grief. One of the most helpful of those strategies was to...
Florida Shampoo Ghost on 2012-09-24
Winter of 2009 was very bad in Eastern Tennessee. It was so cold that our water pipes burst and we had to carry water to our horses. My dad and I happily boarded a plane to St. Petersburg, FL where the highs were still reaching 80 degrees Fahrenheit. It was a very welcome, sunny change. It was also ...
The Woman Who Watches Over The Grocery on 2012-09-17
When I was in high school my then-boyfriend got me a job as a server in a local gourmet restaurant in a very rural town--Harmony, TN. Although this was the only restaurant in this tiny town, people came from far and wide to eat there because the food was very well-known and delicious. My boyfriend h...
Flowers From My Grandmother on 2012-09-12
My grandmother or "Memow" whom I was very close to passed in July 2010. She fought a long, hard 10-year battle with breast cancer. She was 86 years-old when she fell in her bedroom and broke her hip. Her bones had been weakened by chemo. She was very upset that she had to spend her final two months ...
Last 20 posts from SirenBelva