Profile for
ladyannne
(11 stories) (91 posts) (karma: 2 points)
Lady Anne
Only registered users can see email addresses
2008-08-11
United States
California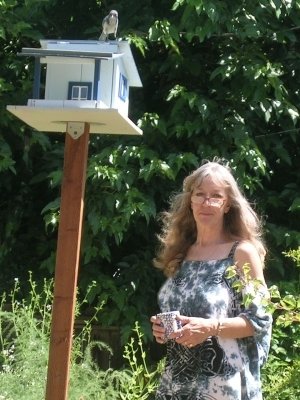 An old hippie, I guess. 56. No, wait, 58. 57. Sigh.
Too many interests to mention, only one of them being the 'paranormal' I have lived with all my life, and it seems I am back there again. The stained glass will have to wait a while. Life is a series of cycles in which you have no choice but one, the spirit in which you meet them.
Never too old to learn, love to hear about others' experiences, always looking for understanding, information, new ideas, growth.
For a picture of Anne on Halloween, visit
http://www.packrat-pro.com/halloween/halloween8.htm
Heh heh...
Favorite Ghost Stories
Favorite stories are bookmarked with the little heart icon on the top right corner of a ghost story.
Ghost Stories from ladyannne
Mrs Grouch And Granny on 2008-09-15
I had a friend, Les, who was a mortician AND a comedian. He said it helped him keep his other job lighter. Whoosh. Les wanted to have a Halloween party, at the mortuary where he worked. Oh boy. An old friend, Steve, said he would go to the party with me. We got to the grounds but didn't see any e...
Dad Really Did Say Goodbye on 2008-08-28
It's still quite difficult to read this today as I submit it, how many years later, yet a story so definite needs telling. It is my most personal story, as well. My father was a practical man. He dealt with life as it came, did the best with what came about, or worked very hard to change it to his ...
Los Gatos Cats on 2008-08-25
There are two huge white lion statues on either side of the gate to an estate just next to the Cats restaurant in Los Gatos on Highway 17. The gate is an exquisite, wrought iron handmade masterpiece (now replaced with a standard gate) that begs to be opened. A quiet shaded road leading off into the ...
Polly on 2008-08-25
This has to be one of my earliest ghost memories, yet, it was evidently not my first. It was 1958 and I was seven years old. I woke in the middle of the night, not knowing exactly why, but thought I had heard the same siren sound as from the movie we had recently watched, The Diary of Anne Frank....
Do Spirits Tag Along? on 2008-08-25
The last few days I have been hearing the weirdest, small noises in and about one kitchen area. Not prone to hysterics, I observe the dogs are not listening or disturbed, cats are not interested, and all pet rats are accounted for in their comfy condo. A large metal tin sounds like it has a mouse it...
Preston Castle Slumber Party on 2008-08-25
Two months ago, we made arrangements to join the Slumber Party at Preston Castle, a closed prison for boys from the late 1800's in a state of severe disrepair. Finally, the full moon weekend came and we were there. Fourteen of us, mostly strangers, set up our beds in the first two rooms and migrate...
The Ione Hotel on 2008-08-18
After our trip to Brookdale Lodge, I ran into an advertisement online about a spending a night in Preston Castle in Ione, a boys reformatory / prison of days past near Sacramento. Saturday night, August 16th was not only open, it was a full moon. Oh yeah. And my David, the original skeptic, wants to...
Chris Is A Welcome Presence In Our Home on 2008-08-11
We had a good one for Halloween, but maybe it was coincidence. Not. I live with a widower who lost his beloved wife, Chris, of twenty years to cancer. She started an extensive garden where we spend most of our time. Quite a legacy. He does not believe in any after life, end of subject. I have gen...
The Winchester Visit on 2008-08-11
Of all the haunted places in my world, the Winchester Mystery House has to be my favorite. I was fortunate to have been raised in San Jose, and had toured the house over thirty times by the time I left the valley in 1988. There is one room that has always been very active. The top floor in that ...
Brookdale Lodge 2 on 2008-08-11
I was invited to a weekend at Brookdale Lodge, Santa Cruz Mountains with Verify Broadcasting and Pacific Paranormal. You bet! I was only tenish when my father took us and I played with that little girl up in the balcony overlooking the dining room. Yeah, that little girl. To walk back into that ...
Andy on 2007-08-16
This is a shorter version of what happened to me, you can read the original version here. I have dealt with "things that go bump in the night" most my life, making we always wonder if I was a bit of a strange child, but never did I dream I would live day to day with an entity. It can be just as spoo...
Last 20 posts from ladyannne