You are here: Famous Hauntings :: The Bell Witch
Famous Hauntings
The Bell Witch
What if you were vengeful and utterly unrestricted by the veil between the physical and the next dimension? That's exactly what Kate Batts had going for her. She was a spiteful old woman who believed that she had been cheated in a land purchase by John Bell and was hell bent (literally) on tormenting him and his children, or at least his favorite 12-year old daughter, Betsy.
On Kate's deathbed, she vowed to haunt the family of the Bell's who had done her wrong. After her death, she made good her promise. It felt to the Bell family that this ghost took no other pleasure than tormenting them incessantly. Kate pinched their noses, poked needles into them, threw kitchen objects about, screeched at them in her now notorious high-pitched voice, pulled hair and was a presence that none of them could escape.
Kate's wrath was particularly directly at John and his favorite daughter, Betsy. With the wife and other children she was sometimes heard crooning softly, saying something pleasant, or just ignoring them completely. John and Betsy were not so fortunate. Kate enjoyed mentally and physically torturing them with her shrieking voice or physically punishing antics.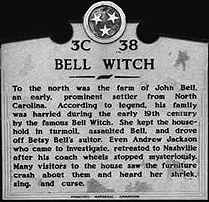 Gossip moved as quickly then as it does now and this was a much talked about event in the small farming town of Adams, Tennessee. People were deeply fascinated by the rumors and some even came from hundreds of miles away to visit the place of unrest. Some spectators were greeted with handshakes, some with shrieks and some with a full dialog of warning. So popular did the story become that General Andrew Jackson, the future President of the United States, gathered a few friend to investigate the story himself. He and his cohorts wanted to either debunk or repel the feisty spirit of Kate Batts.
Jackson and his men were in for a surprise though. When their wagons stuck fast to an otherwise smooth and flat road, their jests of dealing with the witch came to a halt. No matter how they examined, pushed, cursed or whipped the horses, their wagon was not moving. Ịt was said that Jackson, in a fit of frustration and resignation, declared, "By the eternal, boys, it is the witch." Much to the amazement of Jackson and his men, the legendary screech could be heard from a nearby bush that replied, ""All right General, let the wagon move on, I will see you again to-night." Moments later the wagon and horses were suddenly free to move about. There wasn't a person present that could account for the voice's owner or its whereabouts.
Kate wasn't miserly in her haunting antics and bestowed upon Jackson and his men the same torturous treatment as she had John and his daughter Betsy. Jackson's bedcovers were repeatedly yanked from his body and his men were delivered the same pinches and pokes as the family were. Jackson and his men realized they were no match for the Bell witch and hastily abandoned their adventure first thing in the morning.
Ghosts never die so it was not surprising that the haunting of Kate lasted the duration of John Bell's life. In fact, the ghost of Kate Batts was said to have been responsible for John's death.
In October of 1830, John Bell was rumored to have suffered a stroke and taken ill. While he was bedridden, his family found him in a particularly bad state of stupor and position. Alarmed, his son ran to the medicine cabinet to fetch what he thought was his father's medicine. After administering it, the family heard the witch's glee as she victoriously declared she had poisoned John herself the night before with that vial and this last dose was surely his undoing. True enough, it was. The contents were later examined by a doctor and found to be very poisonous.
Kate was not satisfied with death alone. She sang in merriment at John's graveside and was still heard singing happily as the last person hastily left.
Notable points: This story is popular enough to have spawned several recent movies of which include the Blair Witch Project and The American Haunting. It is also noted as one of the very rare poltergeists that caused a man's death.
To share this page:

Latest hauntings:
Comments:

Loading comments....