You are here: Famous Hauntings :: The Borley Rectory Hauntings
Famous Hauntings
The Borley Rectory Hauntings
What binds a non-earthly soul to the physical dimension? From history and research is seems that it generally lends to a life cut short (usually traumatic in some way), or unsolved business.
There are enough allegations of emotionally charged events at the Borley Rectory, located near the Suffolk border in the eastern portion of England, to fill all of those requirements. During a séance, co-held by Harry Price, a paranormal investigator who had leased the premise in the late 30's from Reverend Lionel Foyster and his wife, Marianne, he would uncover what he felt to be one of the strongest presences at Borley Rectory. But before we reveal the results of that séance, a brief history of the house is in order.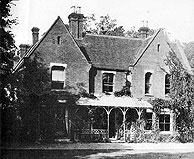 The history of Borley Rectory begins with the building of a gothic Benedictine monastery in the 13th century. Those were not genteel times and legend has it that a monk and his lovely young love-interest, a nun from a nearby convent, were both done-in while trying to elope the establishment and start a new life together. They were captured and the monk was hung while his fiancé was walled up, alive in the cold walls of her convent. Two lovers torn apart to be isolated forever… Was it she who had been seen wafting through the garden, head bent in sorrow? Was she the girl in white who roamed the property searching for her lost love?
After its stint as a monastery, it was sold off as a residence and a rectory was soon added in 1862 by Rev. Henry Bull and his family. Reverend Bull had become pastor of Borley Church in 1862 and despite local warnings, built the rectory on a site believed by locals to be haunted. Over the years, Bull's servants and his daughters were repeatedly unnerved by phantom rappings, unexplained footsteps and the appearance of ghosts. Reverend Bull seemed to find these happenings as wildly entertaining and he and his son, Harry, even constructed a summerhouse on the property where they could enjoy after-dinner cigars and pleasurably idle away the time waiting for an appearance of the phantom nun who roamed the property.
After Reverand Bull passed on in one of the more famous of the haunted rooms (the Blue Room), his son Harry inherited the establishment and position until he himself passed on in 1927. Following Harry's footsteps was Rev. Guy Smith who was so unnerved by the spectral sights and sounds, that he left the rectory just one year after moving in.
After Smith's hasty departure, the house was then inhabited by Reverend Lionel Foyster and his wife, Marianne. The house only seemed to be getting warmed up as their experiences grew in intensity and frequency. Without any explanation, they found themselves locked out of rooms, windows would suddenly smash and personal items would vanish under their noses. Ịt wasn't uncommon for them to hear unnerving noises from all over the house. As time went on, these mischievous antics turned aggressive and Marianne was actually accosted one evening. She was thrown off her bed in the middle of the night and even slapped by invisible hands of which she was helpless to do anything about! The final straw was when she was nearly made unconscious by a mattress that was held over her face. Someone obviously didn't like Marianne. Perhaps it was jealousy from a female ghost that caused these physical transgressions?
The involvement of Harry Price came about after a paper asked him to investigate these poltergeists activity following a popular story written by the paper. It was during his investigation that writings on the wall started to appear, usually when Marianne was present. The writing's ghostly owner seemed more sympathetic to Marianne compared to the other ghosts as some of the messages scrawled were, "Marianne, please help get" and "Marianne light mass prayers".
Price was more of a guest at the manor until the Foysters moved out in 1935 at which point he leased the house for a full year for deeper investigation. Now that Price had the house to himself for an extended period, he ran an ad for other paranormal investigators to help him monitor and document the ghostly activities. He had to weed through some not-so-savory types though, but he ended up working with 40 people to uncover some of the fascinating history of Borley Rectory.
During a séance, an alleged spirit named Marie Lairre came through and told the group that she had been a nun in France but had left her convent to marry Henry Waldegrave, the son of a wealthy family whose home had previously stood on the site of Borley Rectory. The tale turned grim when she declared that her husband had taken her life and placed her remains in the cellar. To Price, she seemed to fit the profile of the ghost that haunted Borley Rectory.
One spirit during a séance even gave a fascinating prediction that the former nun's body would be found in the ruins. Though the spirit said the house would burn down that night, thus revealing the location of the bones, it wasn't until 11 months later that a fire was started by the new owner, Captain WH Gregson, as he was unpacking library books when an oil lamp fell over and started a fire. The fire spread fast through the manor and the rectory was in shambles, later to be demolished in 1944.
Since previously unattainable areas were now exposed, Price decided to excavate the cellar where he indeed found a few small bones, which seemed to be those of a young woman. Was this the proof needed to validate the story of the betrayed nun? Regardless who the woman was, she was given a proper religious burial and finally laid to rest.
To share this page:

Latest hauntings:
Comments:

Loading comments....