You are here: Real Ghost Pictures and Videos :: The Ghost of Boothill Cemetery
Real Ghost Pictures and Videos
The Ghost of Boothill Cemetery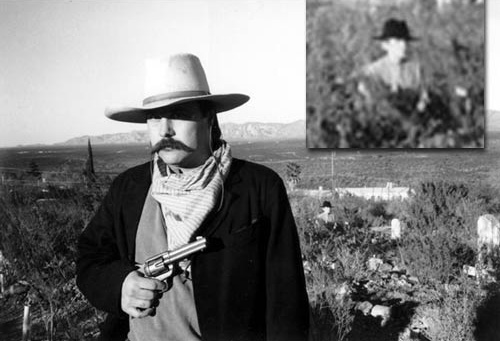 Terry Ike Clanton took this photo of his friend at Boothill Graveyard, who wanted Old West-looking pictures of himself dressed in Clanton's 1880-period clothes. Among the gravestones, just to the right of his friend, is the image of what appears to be a thin man in a dark hat.
This is the photo that changed my opinion about ghost photo's! I personally shot this photograph of my friend in Boothill Graveyard... We had it developed at Thrifty Drug Store and I know no one tampered with it! The picture was shot in black & white, because my friend wanted old west looking pictures of himself dressed up in my 1880 period clothes. All I can say is... "I know their was no other person in this photograph when I shot it, especially some guy holding a knife! Thats right folks, if you look carefully the person in the background appears to be holding a knife!" - Terry Ike Clanton
Latest hauntings:
Comments:

Loading comments....