You are here: Famous Hauntings :: The Winchester Mystery House
Famous Hauntings
The Winchester Mystery House
The Winchester Mystery House is one of the most famous haunted houses in America with enough of a following to-date for daily public tours. The house, now a historical landmark, is located in San Jose California and building started in 1883 and didn't end until Sarah's Winchester's death, 38 years later in 1922. So why so long and to the tune of 5.5 million dollars? Because ghosts told her to do so!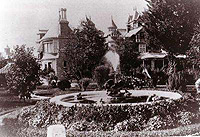 Sarah was the heiress to the Winchester Rifle fortune. She originally lived in New Haven and prior to moving to California lost both her only child Annie and then her husband John. Deeply grieving, she turned to a medium for solace and information. The medium told her that her husband was present and that there was a curse on the family which took his life and their daughter's because of the many people who died from the Winchester gun. He then told her that the only way to prevent her own death was to move west and build a house for the spirits. But there was a catch to this plan. Ịf she stopped working on the house, the curse would take her life. So Sarah did exactly that. She left her home in New Haven and headed to California (under ghost guidance) where she bought a large parcel of land and started construction on her Victorian home. While she lived in the ever growing behemoth, she continued her séances to her husband and other spirits. She had a bell tower added and would ring it to summon the spirits at night, and ring it again to dismiss them. It was said that she built a séance room in the middle of the house and would enter it alone to conduct her communications.
The mental stability of Sarah was in question because of the very odd design of the house. Doors were joined to windows, numerous staircases with 13 steps each that often led no where but the ceiling, doors opened to brick walls, double-layered skylights, double-back hallways, doors that dropped off to the landscaping below, upside-down stair posts and so on. Sarah claimed that these oddities were to confuse the bad spirits that had used the Winchester gun to kill. No one ever figured out her fascination with 13; the steps totaling 13, the 13th bathroom having 13 windows, 13 drain holes in the kitchen sink, most windows had 13 panes of glass, there were 13 cupolas in the greenhouse, the walls had 13 panes and the list goes on.
Some of the current haunting evidence include pages turning on their own, organs playing by themselves, banging doors, voices, dancing spots of light, cold spots and actual sightings of "fog like" people.
To share this page:

Latest hauntings:
Comments:

Loading comments....