Ickworth House is a centuries manor house in Suffolk, England. I visited there with my parents the other day and I saw no ghosts at the house but I took many pictures (300) and at one point I thought to myself, "Wouldn't it be odd if I caught a ghost on camera?" It was just a fleeting thought but it came true. I will attatch the picture but I would just like to tell everybody that it was not the reflection of the sun because there were no windows behind me, it was not a person running past me because there was nobody next to me let alone running and it was not just a blurred object because this is not a blurry picture.
I thought about ghosts whilst in this room and as I was leaving I saw a portrait of a young woman with curly brown hair and for some really I was very much drawn to it. Comparing the "ghost photo" to the portait I saw I believe that this girl was the ghost.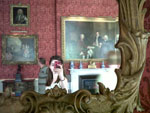 After researching I found that there have been a few reports of ghosts over the years at Ickworth but I have concluded that my ghost is a different one.
When I took the picture a few times I thought I saw someone next to me in the corner of my eye but when I turned around to look fully there was nobody at all there. There was nobody behind me either except for a middle aged man who was accounted for in the photo.
Once you have viewed this photo I would love to hear what you think of it and if you have any experiences of Ickworth. I promise that all of this is true and that I have not faked that photo.