This is my first ever experience with evil spirits. Fortunately or unfortunately I experienced something which is beyond our reach.
Basically am from Bangalore. And this incident happened to me on Jan 2016 in Karnataka, India.
One of my cousin owns an estate in Shimoga, Karnataka. The estate is located adjacent to the back waters. I planned to visit their estate, which I do very often. But I never had any hint about what am going to experience this time.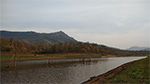 I have a best companion of my life which is a GS (German Shepherd - named 'Kanna') and my habit is to take my GS with me where ever I go. So myself and my GS drove to the estate and reached by noon around 3 clock. The day passed and in night we all had dinner together.
After dinner, I took my GS for a walk near the back water region around 10'o clock. All of a sudden my GS started barking in a very strange voice (which I never heard before) by looking at one particular direction which amazed me. Then he started pulling me forcibly. I didn't understand what he was going through. Later, all of a sudden I sensed some weird things happening and I felt someone is running and coming towards me from the back side (the direction in which Kanna was looking at and barking). Then I clearly felt someone pushing me hard on my back and I fell down and it pained like a hell. After this Kanna became very aggressive and looked like he was chasing away something with its shout. He started pulling me even harder and we ran from there and reached the estate. I told all that happened there to my cousin and even they were shocked to hear this incident. Then my back was paining due to that hard push. Later when checked, I had a red mark on my back and the pain was there for few more weeks. Somehow we both managed to come out of that space.
Thanks to my Kanna.
Does the Dogs really see or feel the spirits? In my case, this is damn true.
Sorry for the lengthy story. I was excited while narrating this story as it's my first paranormal experience and on top of everything, I moved by the exceptional love and loyalty of my German shepherd. He saved me.