About two years back, I'd gone to Kasauli with my family for a vacation. Kasauli is a hill station in Himachal Pradesh, India. Hill stations in India, especially this one is famous for hauntings, so naturally when we decided to go there I was rather excited about some kind of paranormal experience.
Our trip was supposed to be short and sweet and we were to stay there for 3 nights. We had booked 2 chalets in the Kasauli club which was set up in the year 1880, and in 2001 there was a horrible accident where the whole place burnt down to ashes. Even though the burning down bit was really sad, I was still really excited about seeing some unexplainable shadows and orbs here and there.
Our stay in the place turned out to be extremely comfortable expect for the random jumping/running of monkeys on the roof in the mornings and the stray dogs terrorizing us when would walk outside at night. I was quite disappointed on our last night but also mildly relieved somewhere that I didn't see anything weird. On our last night we planned to get up early next morning to click pictures of the sunrise.
The next morning at the break of dawn, Dad came to our chalet to wake us up. Me and my sister dragged ourselves out of the bed wrapping ourselves with every blanket and shawl available and stepped out to a blast of icy winds.
I could see my mum and brother walking ahead outside, down the road, while dad followed them with his SLR ready to be used. I stayed close to the door of my chalet while my sister walked towards the little opening to the woods behind our cottage. My sister took out her N72 and started taking pictures of the rising sun which was barely visible from where we were standing. I just stared at the pine trees which covered the sun while I could hear the multiple shots of her phone camera faced in the same direction. Suddenly I heard two loud thuds and looked up to see two monkeys running on the roof. My sister who was standing further away also turned after a few seconds of the sound and said,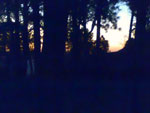 "Let's go back in".
I figured that she too was scared of the monkeys and quickly walked back into the chalet. When she walked in, she looked a little scared, so I asked her,
"You heard that?"
She said, "yeah, but I have to tell you something"
Nervous and excited at her tone I asked, "What? Tell me"
"Only when we're out of here" She said seriously.
I didn't force her into telling me and patiently waited for 2 hours, when we checked out and left.
"After we'd driven out of Kasauli I asked her, "what happened there?"
She said, "I saw something in the picture, let me check again"
I could feel the goose bumps rising on my skin as she took out her phone and browsed through her gallery, "yeah, it's there" she said with a wicked smile and handed over the phone to me.
I continued to stare at her with a confused look as I grabbed her phone. I looked over at the picture and there it was; the reason for our excitement before we went to Kasauli and the reason for my fear now.
In the dark blue background of the woods and the breaking dawn, a solid white figure of a woman standing right there about 10 feet away from where we were, just looking back at us.