I've been a frequent visitor of YGS for several years now (longer than my profile suggests.) I can even prove it: Hey Rook, how's the Cleansing ritual coming along? The page-long version I printed out 2 years ago was quite helpful.
Point being, I know the drill. This is a place for REAL ghost stories. And I can promise you that the tale I'm about to tell is wholly nonfiction. Whether or not the events as I remember them actually happened in the manner described is of course debatable. But the story itself is not something that I have intentionally made up.
I am a freelance writer (see: broke dreamer) by trade and have been known to make up numerous stories with the sole intention of entertainment and, a handful of times, I have even exchange them for actual money (much to my own bewildered amusement, I can assure you.)
So, though it may be the standard knee-jerk reaction to hear "writer" and think "liar", in this instance I can promise you this is not the case. In fact, the story I am about to recount is not one that I would want to claim as a fiction writer. Nothing much happens in it, plot-wise, and the climax sort of leaves you wanting.
Still, it's probably the single scariest thing that has ever happened to me and arguably the one experience from my childhood that has affected me more than any other.
NEW ORLEANS, 1991
The first time that I encountered something "supernatural", I was about seven years-old and faking sick so I could stay home from school because this kid who had been picking on me during recess.
So, there I am: Faux-sick and lounging on the sofa in my grandparents' living room when the sound of my grandmother coming down the stairs filters in from the foyer. I quickly close my eyes, getting into character.
I hear my grandmother enter the den and shuffle around for a moment, gathering her things. The jingle of keys, the snap of a wallet. After a few more moments of shuffling, I hear the side door in the attached rec-room shut and then a car starting outside. I wait a few beats just to be safe and then open my eyes...
CREAK...
The sound comes from the attached rec-room I just mentioned, which is actually an add-on my grandfather had converted from a two-car garage. The room is fully equipped with a wraparound sofa, a stocked bar, a closet full of G.I. Joes, and a large state-of - the-art stereo system circa-1991 ("Five CDs on a large rotating Frisbee? What decadent madness is this?!")
Though, right now my focus is on the toy closet. The only thing that divides the den and the rec-room is a four-inch carpeted drop and so I can see clearly across to the closet, which is built into the room's far-wall. And, to a 7 year-old Clarence's wide-eyed amazement, I can see that the closet door is slowly opening.
I can't move. My eyes are fixed on the door as it casually swings open. This isn't a draft or overzealous hinges. Something is wrong here. I can feel it in my bones (just as clearly as I do now, years later as I type these words.)
"Is she gone?"
The voice is a distinct whisper, clear and yet somehow not right. The way it seems to hum on the last syllable of every word, sort of like the vibration you hear when a bass-note is played through an old amplifier. I can still hear that voice as clear as day in my memory. I wish couldn't. But I can.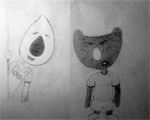 A friend that I confided in requested a sketch. The one on the left was the "pinch-er", which made the experience even more creepy.
The first one leans out.
He's shorter than the doorknob and looks, for lack of a less ridiculous reference, like a humanoid puppet from the American children's show Sesame Street: fuzzy light pink "skin" with a shiny black "nose", big cartoonish eyes and a tuft of troll doll-like hair atop his football-shaped head.
The only difference is this little guy isn't being puppeted by anyone and his legs are clearly visible. Seven year-old me is so fascinated by this aspect that I am suddenly overwhelmed by the desire to get closer; to get a better look at this puppet-person. My fear takes a backseat to my childish curiosity as I begin to sit up.
Then comes the GRUNT...
What seems to be an affirmative response to the first puppet's question; this new voice brings me to a halt. If there was something vaguely creepy about the first one's tone, then this second one's voice is down-right disturbing. People don't sound like that. (Make the "uh-huh" sound without opening your mouth. Did it sound sort of like "mmm-hmmm"? Now imagine that sound but louder and with a bass-like hum to it.)
The first puppet exits the closet followed by his nearly-identical companion. The two of them are only visible for a moment as they hurry behind the rec-room's wraparound sofa.
Once again my fear subsides, giving way to curiosity. Trying my best not to make a sound, I slip down off of the den's sofa and slowly crawl across to the rec-room. The first puppet is now apparently bending over something behind the rec-room sofa and his little denim rear-end (they're both wearing faded grey denim overalls) is now poking out from behind the wrap-around couch.
I make my way across the rec-room, still on my hands and knees, following the long end of the wrap-around sofa over to where I can see the first puppet's butt poking out. I'm inches away when I finally stop crawling, too afraid to go any closer. I can't even bring myself to poke my head around the bend in the sofa. So instead I simply reach out and place a hand on the puppet's back, saying in a timid whisper "Hey..."
The thing instantly whirls around, its big puppet eyes now glaring at me as I retract my hand. It leans around the corner of the sofa, bringing us face-to-face and I open my mouth to say something, though I'm not sure what it would've been.
The puppet darts out a hand and pinches my arm. HARD. Harder than I have ever been pinched before or since. Hard enough to break the skin on my forearm and inevitably cause a small scab to form.
Without a thought, I'm up and across to the side-door and then out onto the lawn where I wait for what feels like hours until my grandmother finally comes back. She starts to scold me as she exits the car, something about faking sick just so I could go outside and play... But then she sees my face.
At first, I don't want to tell her what took place. Even at seven years-old, I'm aware that these kinds of things just plane don't happen. But then she asks about the tiny smear of blood on my arm and I break down.
I tell her a condensed version of the story. I even admit to fake-sleeping earlier when she was leaving after my grandmother tries to insist that it was all nothing more than a bad dream brought on by the fever I had been faking all day. I don't admit to faking sick, of course (that would just be reckless.) So the conversation ends there, at least as far as my grandmother is concerned.
For me, though? To this day, it's still a constant debate. Am I simply crazy or did scary-ass puppet-people actually dwell in the toy-closet of my grandparent's rec-room? (I didn't say it was a logical debate.) I can remember weeks afterward sitting in class or wherever and looking at the scab on my arm and every time thinking: Oh yeah, that happened... That ACTUALLY happened.