This story carries on from 'The Mist of Ward Essex'. As I explained in my last story, I heard earlier this year of the ghost of a woman who supposedly haunts the corner of Ward Street and Essex Road in Indooroopilly, Brisbane, Australia. Living in the area, I thought I would check it out and was lucky enough to actually capture something I could only describe as a fluorescent white mist with my camera (see my last story).
Since my first encounter with this ghost/spirit/whatever, I have been making regular trips (roughly weekly) back to the site with the hope of finding and capturing it again. Three months later, on the night of the 23rd of June, I succeeded.
During my 'ghost hunts' (for lack of a better word), I would generally observe the area for a couple of hours starting anywhere as early as 8pm or as late as 2am. I would also bring with me something to occupy myself, i.e. book, magazine, work etc. It does, after all, get pretty boring after awhile, as I'm sure you can imagine. Thankfully, winter isn't particularly cold in Brisbane (unless you're a Brisbanite). My procedure basically involved looking up from my occupation every now and then to see if anything out of the ordinary was going on.
On this particular night, I observed the area between the hours of 1am and 3am, roughly. It would have been around 3am when I decided to call it quits for the night. I was just packing up when, to my astonishment, I spotted the same fluorescent mist I had seen on my previous encounter across the street from me. I quickly (re) unpacked my camera and hurried closer for a better shot.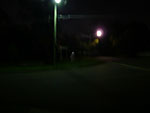 It was dancing around the street light post (see picture) when it suddenly stopped mid-flight and hovered some height above the ground. It now resembled a faintly glowing white ball. Underneath it appeared a sort of grey mass. I was lucky to shoot a single picture of it from a distance before it faded away.
Lucky though I consider myself to be to have witnessed such a manifestation, it is unfortunate that I was not as prepared as I could have been. Were I closer and my camera actually prepared, I would have gotten some far closer and more detailed shots. As it were, my single shot will have to do.
On closer inspection of my photo, I believe I have captured footage of a full-body apparition. The shape of the grey mass does appear (roughly) to be of both human size and shape with the white ball as a head.
I am now done with the site and its ghost as I have achieved what I set out to do.
Please let me know what you think.