2 seconds before he died my dad came clean about his affair with Judith. Judith had died from childbirth and so did the child which was my dad's. I was there when he died and my mum was on night shift with her work. That night I got woke up by screaming (I was 10 years of age) and I walked out of my room on to the landing where my dad was covered in blood and had just enough time to tell me that it was Judith the lady who he no longer loved from his affair. I always remembered her name (he told me her surname too but I will not post that as it's private) after screaming and crying and terrified I got to the phone to phone the police ambulance and of course my mum.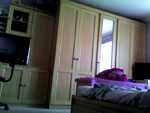 About a year later I had just got back from a holiday with my mum and I went in my bedroom and everything was on the floor and it was a complete mess, all of the other house was clean and just how we left it but in my room it looked like someone had been in there. That night I heard noises like someone was opening my cupboard and trying on my clothes so I turned the tv on and tried to get to sleep without being scared but 5 minutes later it turned off and my bedroom door slammed shut. I went to see if the window was open but it was shut so there was no wind to do it. Then my dvds all feel of my shelf on to the floor except one which was the parent trap which stayed on there. Then I remembered that the parent trap my dad had bought me for my 8th birthday. I screamed and went to open my door but I couldn't and then I turned around and my tv was on again but by that time I was screaming for my mum which soon enough had ran into my room and I told her everything that had happened. She told me it was probably just a draft of wind but I knew she was keeping something from me. After that I slept with her in her room and in the morning I went back in my room to find a complete mess which I tided up. That day my mum told me that Judith's child who died with her in childbirth's birthday would be today if she was alive and it was obviously Judith's death date as well.
That night around 6:30 my mum had popped down our local dvd rental place to hire some movies to watch for me and her to stop us from being scared and whilst she was doing that I went in my bedroom to put my pj's on. 5mins later my door slammed and I ran to it yanking trying to get out but I was stuck and my £100 mirror shattered on the floor and my dvd's had been spread all over my bed like someone was picking something to watch, there was only about 4 films and my 5th film (parent trap) was on top of my tv. Then I'd swear I had heard crying like a baby crying and that's when I smashed the window open and jumped onto the roof of the kitchen (we had an extension.) As I did this I was screaming for our neighbors to hear and then my mum came back and she got the ladder up and I safely climbed down.
Now we live in a different house as living there got to much for us. Everyone who reads please beware because my dads death was definitely not suicidal which the police said it was after inspections and everyone be careful because you never know what's out there.