I was tired last week working until late. I met up with my close friend and had a drink or 2 of gin lime and went straight home.
We parted after walking awhile together, me to my flat and my friend to her home. I was really tired that I literally just dropped asleep on my bed with all my dirty clothing on soon as I entered my bedroom. Henrique was there and I could feel him smelling my face and licking my finger. I could not wake myself since I was too tired.
After a while when I was half wakening, feeling a little better and needed a shower, I moved my heavy body up but just could not do it. I felt as if someone or something was sitting right on my back. I was struggling trying hard to push myself up, I hear a knock on my door and something appeared right beside my awakening eyes.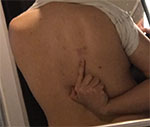 It was sort of like a werewolf looking, half man-half-beast looking figure. I did not move a bit, and I thought that it will see me if I move. I can smell the beasty smell of it, as it lingered in my room. Since I was half awakening, I am not sure if it was a dream or real. When I became completely conscious the figure was gone and Henrique was sitting on my working desk beside my bed looking at me as if he was worried for me. I struggled up from my tired body and went to shower.
The next day, I was still very clear about what I had seen and smelled the night before. I was thinking if I was smelling Henrique instead and the werewolf like figure to be Henrique being a little too close? Since I was only half awake and was tired, the weight I feel might just be the symptoms of tiredness and stress. And the figure I saw might just be something made up in my mind, something like a dream mixed with reality. Yes, since I felt a little fear, I might be imagining things. Yes, yes, and I had alcohol right? Noted too, so that was my conclusion, but please read on.
While I was in my shower room the next evening, I saw my back through the mirror and found a strange bruise or a mark. It was not painful at all and it seemed to be at the spot where I felt a heavy weight the night before. I am getting a little confused on what had happened and sort of starting to change my thoughts that it was not as simple as a dream or hallucinations.
Could it be a spirit that I accidentally brought home looking for its way out? I do not believe that it was a demon or bad entity, t since nothing bad had happened so far. It has been a week since it happened, still I am fine and nothing else odd had happened.
Did anyone here experience something similar? Did you know what that is?
Please feel free to ask me for more details if needed and other questions if there is any.
Love from São Paulo
E.Lynx