Greetings Team YGS.
For your hungry eyes, I may have a gem for you.
For the past 9 years, I have been employed by a charity based, community event producing, organization known as Events Edmonton. The current flagship event that Events Edmonton produces is Taste of Edmonton. Prior to Events Edmonton, this organization was known as the Klondike Days Association and was registered as a charitable organization in 1965.
The Klondike Days Association came to be when, in 1962, the City of Edmonton changed the name of it's annual agriculturally based exhibition from the Edmonton Exhibition to a refreshed brand title known as the Klondike Days Exposition.
The Klondike themed Exposition was embraced by the citizens of Northern Alberta to the point where almost every Edmontonian dressed in Klondike attire to celebrate the late July event.
In addition to the Exposition being staged at the Edmonton Exhibition (now Northlands) fairgrounds, Klondike Days started to feature many other, outside of the fairgrounds, activities throughout the city. Some of these community based activities included the Sunday Promenade, Kobasa Eating Contest, Klondike Kate Pageants, King of the Klondike Competition, Bathtub Derby Races, Sourdough Raft Races, etc. To manage the non-fair related Klondike programs, the Klondike Days Association was formed.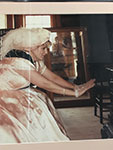 Upon commencing work with the Edmonton Klondike Days Association (now Events Edmonton), I noted a peculiar framed photo that hung prominently on the wall within the office. To paint the scenario of this photo, it can be best described as a promotional picture from a Klondike Kate photo shoot in one of the log cabins at Fort Edmonton Park.
This 1980's era photo depicts a period dressed Klondike Kate reaching for a pot belly stove in a hand warming pose. To accomplish this shot, the photographer positioned him/herself at the rear end of the log cabin. With the camera lens pointing squarely at Klondike Kate's right side, the front door to the cabin was fully exposed in the background as well.
While conducting the photo shoot, the camera crew and Klondike Kate didn't notice anything that was unusual in nature. However, upon developing this one particular photo, a ghostly apparition can clearly be seen at the front entrance area of the log cabin.
The veteran staff member in our office at the time was the General Manager who had spent approximately 10 years with the organization. Armed with several questions, I approached the GM with the hopes of curbing my curiosity.
Regrettably, the GM had limited information concerning the photo. In addition to what has already been stated about the photo, I only learned that quite a number of paranormal researches have examined this photo and determined that it is one of the better legitimate ghost images ever seen.
I welcome you to pore over the photo and provide me with your feedback.
Mr. Quirky