We recently took a trip to Charleston, South Carolina on 7/07/08 to celebrate our one year wedding anniversary and took a haunted old jail tour. While we were waiting outside to be called in for our tour, we snapped a few pictures outside the front of the jail. Upon looking at the pictures taken, we looked on the digital camera and noticed an unfamiliar face show up in the picture above my wife in one. We took another picture to see if the object appeared again, and it did not. I have shown it to many people, including the tour guide and they all think that it is a ghost/spirit from the old Charleston, South Carolina jail.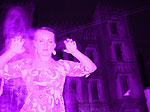 Please help me verify the chilling experience!
I took the picture in our digital camera night setting, but it does not seem like a double exposure or other camera error because of the location and position of the face in the photo and the facial features do not resemble my wife at all.
Site for the jail: (it is known to be very haunted!)
Http://www.nps.gov/history/nr/travel/charleston/old.htm
I will attach the photo if I can find a place to do this so everyone can review. We also have the full size image for review too.
Sincerely,
Gene & Jenna
Myrtle Beach, South Carolina