Not too long ago, my aunt, who lives in Birmingham, England, purchased an oil painting by Sep Milner. I do not know this artist, but I believe my aunt bought the work in Holland. Anyway, ever since she put it up in her office at home, strange things started happening.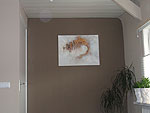 It began when my aunt started noticing weird lights in her office at night. Initially, she assumed they were just the headlights of passing cars or something, but the lights also appeared when the blinds were closed. Her 10-year-old son Simon began to complain as well, telling her that he could see blue flashes of light in the room. Despite a relentless search, no explanation could be found. The source of these flashes remained a mystery.
Oddly, my aunt's clients started complaining as well. Several visitors to her office told her they felt like they were being watched. They didn't mention the painting specifically, but stated that there was something behind them, a 'presence'. The only thing behind them however, was the picture on the wall.
A neighbor, who is supposed to be a 'sensitive', eventually claimed the painting possessed a potent energy field. He said the energy wasn't harmful, just very strong. Eventually my aunt made a photo of the work. The image doesn't show the lights or the flashes, but there is what is called an orb in the left corner.
I don't know what to make of it, or what these orbs are supposed to signal. Does anyone have any ideas?