At long last, I would like to share with you a compilation of experiences from my last job, here in the small town I moved to.
Before I begin, I would like to make a note that other co-workers and myself have spoken with the owner of the restaurant I am about to tell you about. We have tried to convince him to list the location as a haunted site. He did consider this for sometime, but came to the conclusion that he did not want "undesirable people" to be attracted to his business. I do understand his concern, and I respect his decision. Therefore, I will not be disclosing the name of the restaurant, or the city of which I live (because it is a small town, it would not be hard for people to find this place).
I have also spoken to two of my ex-coworker friends this past weekend. They still work there, and I received updates on any activity still occurring. In the excitement of our conversation (and general catching up) I neglected to ask them for permission to use their names. Therefore, I will refer them as "co-worker 1", "co-worker 2" and "owner", "manager" etc...
And now, I will begin.
I moved from the large city of Grand Rapids, MI to my small town in the spring of 2010. I cooked for a college in Grand Rapids, and the students were on summer vacation, so I was collecting unemployment. I had the decision to make whether or not to continue to commute to work from our new home everyday (which would be expensive) or find a new job.
I majored in Culinary Arts, and have many years of experience in many areas in the kitchen. Mainly working as a pastry chef, which was the Grand Rapids job, or front of the house. Ironically, the same time we moved, a new restaurant was opening in our town. It was still partially under construction. It was going to serve wine and be on the casual/ fine dining end. I got very excited about this, and decided it was time for me to try working front of the house again. I went for my interview, and was immediately told I would get a second. I was excited for the change. (I obviously got the job, cut out for time).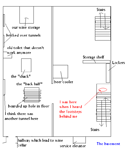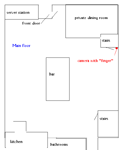 The restaurant was looking great, though it was still quite under construction. It was to open in just under 2 months. It used to be the old Press building. It had original hardwood floors on the second half, and new hardwood floors (to attempt to match) on the first half. An island bar in the middle of the floor.
There was an upstairs, which had a large skylight and they were putting many new arched windows in. Their plans were to turn the upstairs into loft apartments (eventually).
There was also a basement. The basement was definitely different. There were two staircases put in to get down there, on opposite ends of the east wall. Down the middle of the basement was a separator wall, and then there was the "back half" or west end of the basement. There were no lights in the back half for quite a while at first, until they had the time later to add them in. There was a large hole in the ground, boarded up. Even shining a flashlight in the cracks of the wood, you could not see the bottom of this hole. I'm guessing it was for some sort of machinery, possibly an old scale or something to go down into, but I never found out. In the middle of the "back half" of the basement was a small shack. I have no idea what this was for. It was quite small, and only had an old phone in it (that no longer worked). It looked like something out of Texas Chainsaw Massacre, and I kidded the other workers about it frequently. Along the west walls, there used to be tunnels that went throughout our town. They were still open until the renovations took place. Then the new owner decided to have them bricked over. All but one. One was to remain for the owner of the building. He wanted to keep one for a personal wine cellar (the man loved wine). This was down a sort of hallway that (as long as I was there) never got a light put in. I tried walking down this hallway once, but I only had the light on my cell phone. It was so dark back there that I had to turn back, because the light from my phone was being eaten by darkness. The other workers thought I was crazy to walk in there in the first place.
And finally, in the very far back end of the "back half" of the basement was a closet. Later, this would become our extra wine storage. The owner of the restaurant felt this would be a good spot to store extra wine, as the basement is cool and you have to walk through the back part of the basement to get to it, which most people, minus myself, didn't want to do. He did put a new door, which locked, on this closet. (I'll draw some rough floor plans and submit them to the story as well, so you have a better idea).
There was also a service elevator that went to all 3 floors. It did not like working properly.
From the beginning, people were already talking about the building being haunted: The front of the house manager, and the restaurant owner. Both had experienced something.
The front of the house manager - "I was upstairs sorting through the barware late one evening, and suddenly I was surrounded by loud sounds. It sounded like a man started up the old press equipment! I ran downstairs, and won't go up there again. At least not alone." (Note: Upstairs used to have press equipment before, but it has been long gone. There is still a large drawer system with old press stamps. I went through them one day, and it was most interesting to look at. The restaurant stored extra chairs, barware, silverware, tables and other items that we didn't need upstairs).
The owner of the restaurant would not elaborate on what he saw while it was under construction. But he has admitted to something being there.
I had two experiences:
First experience - I was downstairs. I honestly don't remember what I was doing down there, I was getting something as we stored our napkins, to-go stuff, extra ketchup and whatnot downstairs. I was the only one in the basement. It was a slow day, and we had minimal staff. Suddenly, I heard a loud crash coming from the back half of the basement. The back half had one light at this time, and it was not on. Most workers were creeped out by the basement. They would not be in there in the dark, and I would have seen them walk by me anyway. The crash sounded like someone dropping a bucket full of bricks onto the cement floor. It was loud and solid. Most people said they would have run at that point, but as some of you know, I'm not a runner. I called out to the back room "is anyone back there?" Of course, no one answered. So I turned on the one light that we had back there. (At the time, it really didn't illuminate much. Later we got more lights put in.) I walked around the basement. There were no places to hide that I couldn't easily look in. Like the shack, around the corners and that back closet. Only down that hallway leading to the owner's wine cellar, which had no light. I searched everywhere, and even shone what little light I could from my cell phone into the dark hallway. I saw no person, nor anything that had fallen over that could have made that sound.
I had work to do, so I went upstairs to continue my job. Ironically, that same day, the owner of the building came in. I caught him, and told him "I don't mean to be the barer of bad news, but I heard a loud crash today that sounded like it may have come from your wine cellar. You might want to check to see if any wine fell over and broke". It was at this point that he told me his experience:
The building owner - "Don't go down there at 1am! I made the mistake myself years ago when I had a small wine store here. I was doing inventory, and as I was closing up, I reached around back to turn off the light (that used to be there). As I reached around the corner, something grabbed my arm and pulled me toward the back room. I ran as fast as I could out of there, and won't go in the basement at night ever again." (He was the only person in the locked building at the time).
No wine had broken by the way. He did check, as it was afternoon.
My second experience: I was opening one morning. We kept our beer cooler in the basement. We stored our lemons, limes, and oranges down there too, since the bartender used them a lot, and we didn't have a large cooler upstairs. So I went down to get some lemons to slice for the water drinkers of the day. As I was nearing the top of the stairway, I heard the distinct sound of footsteps running up the stairs behind me. I stopped and turned and stared at the empty stairwell. As soon as I looked, the running stopped. I said something stupid like "really?" and just stared for a minute, waiting to hear or see anything. Nothing came, so I went back to work. It was early morning and there were only few cooks and myself in the building. They were all in the kitchen, which was not positioned anywhere near that stairway, so it wasn't any of them. I like debunking things, and I couldn't find any explanation for those footsteps.
I usually opened in the morning. So I would walk the restaurant to check that all settings were in place from the night before. There was always silverware missing. Place settings would be askew, and linens wrinkled. For a long time I figured this were just lazy servers at night, not doing their side work. However, we had so much silverware disappear so often that our owner had to reorder very frequently. I've worked in quite a few restaurants, and this was definitely a high end of missing silverware. We would have repeated Front of the House meetings reminding us all to "be careful with the silverware", "make sure we're not throwing any away", and that "it is important that we have tables set at night for the morning shift". Everyone always swore they did their part. It became a case of whether or not people could be trusted. I became one of the two shift leads. I would make sure that things got done at least on my shift. Things would on occasion still come up missing or askew the next day.
There was also a time that I got stuck in the service elevator. It was the kind that you have to close the outer gate, then pull up the cord to close the doors inside (they shut from both top and bottom and meet in the middle). This elevator had issues, and liked to mess with people. I was one of the few who would ride in it. As I was riding from the basement to the main floor, it got stuck. I then heard a clattering, tapping sound coming from the walls inside the elevator shaft. This continued for a few moments, as I listened, trying to figure out what it could have been. I started calling out for a kitchen guy to come out, find me, and let me out. It took a moment, but eventually one came to release me. (The elevator could be operated from inside and outside the elevator. The inside wouldn't work for me. He got me out by using the outside controls. I was stuck between floors and the doors won't open until you're in the right spot). I'm not sure what the sound was, but I rode the elevator again since, and it didn't happen again.
Being a server in a small town, I didn't make much money. So I ended up taking my new job and quitting the restaurant. I still like the place, and offered to help out when needed, but since the business was slowing down (winter) they wouldn't need me, so I turned in my uniforms so I wouldn't continue to get cleaning charges. I finally had the opportunity this weekend to see two of my fellow server friends from there, and catch up on how things were going, and any new ghostly activity.
Coworker 1 - "I was upstairs with [the front of the house manager] and we were just getting a few things. That's when we both had the sudden feeling that we were being watched. The eerie feeling continued until we left to go back downstairs. I'm sure there is something in that [restaurant]".
Coworker 2 - "I was the closing server one night, and had finally finished everything out front. So I went to the office to check out with [the owner of the restaurant]. He asked me 'who is out on the floor?' That's when I noticed he was pointing to the surveillance camera, and saw a finger in front of the camera. The finger was pointing directly at the camera and moving in an up and down fashion (like shaking a finger slowly at a person). I said I was the only person here and I was just out there and no one was there. He went to check for a cobweb or anything that could cause the 'finger'. He came back a moment later, saw the finger on the monitor still, and said 'Let's get the Hell out of here'. I didn't have to be told".
(Note: the cameras are too high for a person to reach, even if standing up on a chair. The tables weren't close enough for someone to stand on and create that same image. I no longer work there, so I obviously did not see this for myself. Since he does not want to be listed as a haunted location, I cannot get this video clip, despite how much I'd like to see it too. I am taking coworker 2's word on this. Coworker 1 also verified that the restaurant owner told her the same story).
That is the best I can do for now, until I hear anything new. The restaurant itself has delicious food, a great wine list, and just placed one of the top restaurants for this particular area. The best thing about it though, in my opinion, is whatever else is in there.