Sorry guys about my story being so long. Ok so this has taken place over since I was born. When I was only a few weeks old orbs and vortex's started showing up all around me (I have pictures to prove it). Then when I was only two years old I saw my first ghost it really scared me and I still remember it.
Then we moved to a new house the activity stopped for a few years but then when I was about eight years old I started seeing ghosts again. I saw a shadow ghost of a woman in a graveyard and she was staring at me but I wasn't scared of her. Nothing really happened after that until I was about twelve years old when a ghost of a little boy showed up at my house.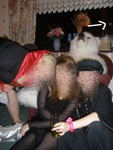 My room was being done up so there was no curtains up and you could see outside. I had just gotten into bed when I turned over and looked at the window and there was a little boy staring in the window at me it scared me. I pulled the covers over my head and hoped he would go away, I fell asleep but I woke up when my parents came into my room to hang up the curtains. I slowly looked over at my window and the little boy was gone, I quickly looked around my room just to make sure he wasn't there but he was gone.
When I turned sixteen ghost's started showing up again, I would hear whispering and things being moved around.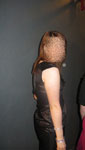 One night I was in the sitting room alone when suddenly I could feel a presence in the room with me. I felt like I was being watched and then it threw my jumper from one corner of the couch over to the side of the couch. I was scared but I wouldn't turn around to see what was there soon after that, the presence left the room.
Things started getting really weird now. I was lying on my bed after coming home from school when I suddenly felt a hand on my waist. I felt like I was being comforted but I wasn't afraid and I had the most vivid dream of this guy and this girl. They were lying on a bed kissing and laughing but the girl in the dream looked exactly like me which kind of freaked me out a little. When I woke up there was nothing there so I just thought it was my imagination. A few weeks later the guy that was in my dream showed me how he died in another dream, he died in a car wreck. I jumped up out of bed and I noticed that my head was hurting me, I put my hand up and felt a lump like I hit my head. It really scared me because the guy in my dream died from a head injury.
Just recently a ghost of a woman showed up in our shed. I don't know who she is but she is still there. Why do ghost keep showing up at my house? I never told my parents any of this because I don't want to scare them. Has this happened to anyone else?