I didn't believe in any kind of ghosts, visions, witches etc. Before. I was characteristic realist until I came to North London to stay at English family and work there as their au-pair babysitter for one year. It was really good for me. I enjoyed spending nice time with that wonderful seven years old girl, I could learn English with native speakers, go to school, and see new places and meet new friends. What a great opportunity for a young girl.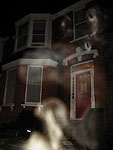 Sometimes the words are totally useless, so I send you my proof - there's a photograph of that very old typical English house in North London where I used to live for one year. I would love to write you my story here, what happened, how and where, what I could see and hear.
But first of all I would like to ask you to have a look at my picture and try to explain me what you see, where and what you think it means.
Because I don't want to influence you at all, I am not going to tell you what my family, my friends and I think. Let's leave it for next time.
I hope you enjoy that picture and I really look forward to your answers and explications.
Thanks in advance.