After what happened to me for the past three months I never slept alone again I usually sleep with my younger sister. It turned out that even though I avoid being alone the haunting won't stop.
This month of March 2009 something has been haunting the house at night and the worst thing is it still haunts us during daylight. One night while I was asleep in bed with my sister the bed started shaking violentl, waking the two of us, I thought it was an earthquake, but we are the only one who felt it. I asked my mother if she felt anything she said there was none. I thought it was the same presence that was haunting me that caused me fear of being alone. But I was wrong, the first ghostly presence that I encountered only makes me feel its presence during night time but this one still lurks during the day time.
2 weeks ago at 11:00 in the morning while I'm in my room I could hear someone running in the living room (By the way my bedroom is near our living room), it became so frequent that I decided to see who it was; when I peeped in my bedroom door to check who was running without him or her seeing me but I saw no one. I thought maybe this person ran out of the room so I decided to continue what I'm doing, but then the running started again. I was there standing by my bedroom door with my eyes wide open because I can hear the sound of someone running but there was nothing and no one in the living room.
I hurriedly locked myself inside my room and waited until it stopped; when it stopped I ran out of the house and waited for my sister. My parents was out of town then so the people left at home was me, my brother and my sister, when my sister arrived, she asked me what was I doing outside I just shrugged her question and went inside with her it was 4 in the afternoon then (I stayed outside the house for 4 hours!).
It was 4 in the afternoon and I'm really hungry I was not able to have lunch because I refused to return inside alone and I left my wallet inside too. So when I was back inside with my sister and I went to the kitchen to prepare a snack for the two of us, I didn't know that she took my phone from my room and then went to our spare room (this room is beside the kitchen, we put all our used clothing here because it is also near the laundry room, "take note I really hate this room because it's the darkest room at home during the night").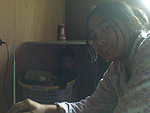 In there she took pictures of herself using my phone (without my permission) while she was listening to the radio. I caught her using my phone when I came looking for her because the food is ready. I grabbed my phone from her hand to see what she is doing. I laughed at her because the pictures she took were really not good, she was taking pictures against the light that's why she appeared darker in the pictures.
We were browsing my phone and checking her pictures when something caught our attention, In one of her pictures there was someone else behind her and when we transferred her picture to the computer we got scared with what we saw, "behind my sister was a boy staying in the corner of the spare room". I didn't know how to explain it but I believe it is the same thing who's been running in our living room, and my sister concluded that he's the one who's been shaking the bed (I haven't told her about my first experience).
Apparently I got tired of getting scared by him and ignored his presence. I still have to squeeze my brain for our exams this week.
I've sent a copy of the picture in this site if you want to see it.