I have been many times to the Myrtles Plantation in Louisiana, the Crescent Hotel in Eurika Springs, Arkansas and many other areas reported to have been haunted and experienced absolutely nothing.
I recently returned from a 2 night stay at the Read House in Chattanooga, TN and the infamous room, 311. During our stay, we took about 300 pictures in the room. Of those, about 30 showed clear orbs, not visible to the naked eye. I used 2 cameras, each digital and simple sat snapping pictures. There was no mistake and certainly no trick photography. I have used the same cameras at all other places I have been.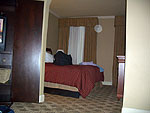 The orbs are not dust, nor are they reflections. If anything, I am a skeptic and to say I was shocked at what I saw on film would be an understatement. Now, although we got many pictures over our 3 day period and also witnessed a few "unexplained" activities in the room, there was no feeling of dread or fear at any time in the room. It was just a fantastic stay.
The people there are some of the friendliest I have ever met and the overall trip was fantastic beyond words! We are sure going back! As to one strange happening. The first night, when I went to bed, I carefully placed my "crocs" beside the bed where I could slip into them easily when I had to get up and use the bathroom. On one occasion when I got up, one shoe was turned and against the far right wall and the other was at the foot of the bed. As I said earlier, I am a skeptic.
This was my first experience of this type and it was simply as real as it gets!