In September last year (2010), I travelled to Egypt on a school trip. There was about 40 students' altogether, 5 teachers and 5 parents. We visited many places such as the Pyramids and Sphinx, the Temple of Philae, The Colossi of Memnon, the Cairo Museum, Aswan High Dam, Al Azar Mosque (Cairo), Karnak Temple, Luxor Temple, the Step Pyramid and much more. We also spent two nights sailing the Nile River on some feluccas.
On one of the hottest days during our time over there, we spent a whole day visiting Queen Hatshepsut's Mortuary Temple and also the Valley of the Kings.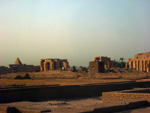 The morning of this day, we left the Sonesta St George Hotel in Luxor where we were staying and took two motor boats across the Nile to the West bank. There, we rode some donkeys down the main street until we reached the Colossi of Memnon. We then took a bus to Hatshepsut's Temple. While driving we went passed the Ramesseum and being a major fan of Pharaoh Ramses II (the one who commissioned the Ramesseum's construction during his reign in the 19th Dynasty) I quickly snapped some pictures through the bus window.
It wasn't until I was back home in Australia roughly a week later and sorting through and naming my pictures that I realized there was a lone, black figure in the centre of one of the Ramesseum pictures I had taken. I am fairly positive that the figure is not a statue as many of the statues at the Ramesseum had fallen and crumbled many years ago and they are all a sandy colour, not black. The figure does resemble a lady in a full burka, however, there was no-one in or around the Ramesseum as it was completely closed at the time.
This was a trip of a lifetime, we could not have done if not for the generous help of the locals and I wish all the best to the people of Egypt during this difficult time.