Just a quick little story about last night's (02-22-2009) investigation at a local cemetery. The cemetery in question has been very fruitful in the past for getting good EVP's. This cemetery is located in a farmers field along a small highway. Maybe 50 to 100 "Residence" call this place home. It was used from the 1840's to the 1940's. There is an old abandoned church across the highway. Therefore I assume that a lot of these folks in the cemetery were members of the congregation. The denomination of this church is unknown as the sign has been weathered right down to the wood. No paint remains.
Last night at about 8:30 PM I decided to go to this particular cemetery and do some recordings. If you have read or listened to some of my past investigations you will hear what has been captured at this cemetery over the last 3 years. I have recorded here at least 75 times! Last nights investigation differed from them however. On my drive (5 to 10 minutes) I felt compelled to go, yet a little apprehensive about going. That is VERY out of character for me. I am NEVER bothered to do an investigation of a cemetery, home, museum,...etc.
It was very chilly when I arrived (alone) and exited the Jeep to trek across the road to my usual "Haunt" (yes I said that to be funny. I think I haunt these poor folks more than any other!) During the EVP session, I kept talking but I felt Dizzy and Lightheaded too. That has never happened to the magnitude that I felt last night. While running 2 recorders I took photographs Like I do occasionally. I typically tell the entities that I am trying to obtain proof of an afterlife and ask them to stand in front of me. I count down from 5 and then snap the picture.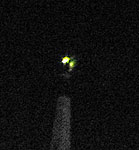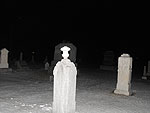 I caught several EVP's last night and they are attached to the video. I also caught an odd Photo. Please watch the video for the picture. There is a green light that seems to be illuminating the hair, face, neck and Shoulders of an Entity. I could be wrong by this. I am just putting the picture out there for you to review. However, when reviewing, note that I have been here and photographed / recorded Many, Many times. I have NEVER seen a green light. Where the light is seen is by a tombstone that is about 3 feet high. So that would make the "Person" roughly 5'6" to 5'8" tall. Behind the light there is nothing but a woods and a field. Enjoy and let me know if you see something in the photo. Hopefully I am not imagining a person there. Even if I am, where did the green light come from.
Side note, about 5 minutes after this pic I took another one and caught several Orbs and another "Green Light". On the other side of the cemetery facing the opposite direction than the first. No face, just a green ball of light with several "Orbs". (And yes I know, Orbs does not necessarily mean Ghosts!)