My name is Derek and I am 17 and live in Middleton Idaho. My entire life I never believed in ghosts or heaven and hell (or anything for that matter) until just recently. The whole story of my life and the things I have went through are too long to put down so ill just share the basics because I am afraid for mine and my families lives and need some advice asap.
So a couple of my friends had talked me into playing a Ouija board in my house about a year ago so I agreed because I thought it was stupid and that nothing would come of it. But I was way wrong, I had left the house to live with my father for awhile and the house was left vacant, eventually I moved back in with my mom and we decided to go back to our old house that I had played the Ouija board in. Ever since I have had some terrible experiences with something that I believe is an unclean spirit or (demon).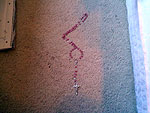 I've experienced things like my bed moving, scratching on walls, waking up with heaviness on my chest and not being able to move or speak and even seeing a very tall dark cloaked figure that physically attacked me... I'm scared even to go to sleep at night because it has appeared in front of me and have now started leaving what I assume is satanic symbols on the ceiling and floor where I sleep, and has destroyed religious objects in my house. I have photographed all of these symbols and would like an interpretation.
I don't know what to do because I have never experienced anything like this before. I live with 5 people and they have all witnessed these events although no one has been attacked except for me. It keeps getting worse and has thrown objects across the room. I feel like a crazy person and I just want it to stop my email is caddieman68 [at] gmail.com and I really need advice on this subject please!
Thank god! Is all that I can say, I have finally, with the help of god and an amazing gentleman that contacted me through my private email rid myself of this powerful demon that has tormented me for so long. Help is out there people! And there is an invisible war between light and dark that some of us are unfortunate enough get caught up in. I have found out with the help of others that the thing that was tormenting me was in fact a very powerful and evil succubus (female sex demon) left behind by occult activities in my house not relating to the ouija (although I'm sure that didn't help)
All I can say is that the good outweighs the bad and no matter how powerful the dark entity is in your life such as the one in my story (demonic encounter) that with god one can rid themselves of evil. I have grown a lot as a person through all of this and although the demon scared me beyond believe, it opened my eyes to the world that exists beyond the physical one. I urge anyone who needs help to get it fast and know that they aren't alone in this battle. My experiences with the succubus in my house have made me want to reach out to people that have same problems as I had. My email is caddieman68 [at] gmail.com and I am willing to listen to anyone's story and point them in the right direction to get help now.