I'll begin with some background. This is my first time to this sight and I thought that the community here might appreciate what I am experiencing and also offer some advice. I am currently a boarder-line skeptic, but I was a total skeptic before. I used to watch those paranormal reality shows that air on the cable channels and merely laugh although some of the stories were fascinating.
I am a 37-year-old tech and an undergrad. A Geek as people in the industry would say. I was working in Chicago at a very large technical company for about 6 years. Then I got "Right-Sized" as they say in these troubling times. For the last year I have been dating my now current girlfriend. She would fly down to Chicago from Minnesota or I would fly up there to see her. When I would fly up we would stay at her place, which she rents.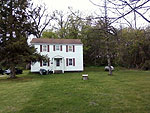 HER PLACE: She rents this Farm House up in Minnesota near a small farming community (20k people). The house is situated on this large plot of land. No crops nearby either, which is good. Hate to be constantly hearing that farm equipment roll by. The house was built in 1969 and is still owned by the original family that built it. Nice big place with six bedrooms upstairs and one bedroom, kitchen, living room and bathroom downstairs. This house sits off by itself and is quite far from the main road. The rear of the house is surrounded by woods while the front and sides of the house are open to the yard. The nearest neighbor is about a football field away. Anyone else is a mile or more away. Every time I go out there I feel at peace. Much different than the chaotic lifestyle of Chicago! Last Summer I even stayed there for a week and visited her. While she went to work in the morning I would "pitter-patter" around the house or explore the woods. During that time I soon found out just how "noisy" that house was. You see, the entire interior is wood cherry wooden floors and walls. Everything echoes. I can easily hold a conversation with her being upstairs in one of the bedrooms while I am on the first floor. I also got used to all the "mechanical" noises of the house. For instance when the furnace kicks on you can hear the flame, then the "knocking" sound as the metal heats up and expands then the blower kicks on. Or when you turn on any water in the house you soon hear the water pump kick on from the basement. The glass in the windows clatter as the wind picks up and the floors creak at times when walking. A noisy house but perfectly normal for a home of that age and construction. I got used to it all...
Background of the Owners: The surviving owners/family of the house are three brothers and their mother (who is in the nursing home). The brothers are in their late 50's and have their own families and homes. The father who was first to buy the land and build the house (as far as I know) died a long time ago. He built the house with his own hands. One of the brothers told me that his father first dug and finished the basement then he ran out of money. He then built a roof over the basement and they lived there for some time (their father refused to take out a loan). When he saved enough money he then completed the rest of the house and they lived there from that point on. Now, there was a fourth brother but died some time ago as well. According to one of the brothers when they were out maintaining the property (they had long since moved out) One of them thought they saw a man standing next to the house watching them. One moment he was there... Then the next he was gone. The brother told me that him and his other siblings got together to discuss what had happened. They believed that it was their brother that died. I guess he looked like him and was wearing the same flannel shirt that he used to wear. When I heard this I just thought to myself, "Yea, right. Nice story though".
The Story (Finally): Let me mention one more thing. The week that I stayed there (as mentioned above) she told me a story. She has a nice Lab named Rufus. Before going to work she would put him in his kennel until she came back home after work (dog wasn't potty trained at the time and playful). Well, after the first two weeks that she moved in (she's lived there for a year now) she heard a male voice in the house as she walked in the door. She told me it said, "My, what a pretty thing you are". She said it was quite clear and audible, but wasn't sure where "it" came from (the place echoes remember). She then ran to the kennel and got Rufus out. She then dragged the dog to every room in the house to check for intruders (ha ha!). She didn't find anyone there (You might be saying right now, "She's nuts!". She is a Parole Officer and does not scare easily. Almost as tall as me 6'). When I heard this story I thought to myself, "She's crazy! Hearing voices..." and I almost broke up with her. But I soon gave it some thought and I let it slide. "She probably just wanted some attention or conversation", I thought. I did ask her what she did after that. She told the brothers and they agreed that it was probably their brother that passed away or their father. And that one of the two was talking to Rufus (the dog). She then told me she just ignored it after that and that it never feels bad in the home. And that it has never tried to hurt her. Again, after hearing this I thought, "She's crazy!".
Now fast forward to the present. I get laid off (as I mentioned) and months go by trying to find employment (tough in Chicago). I'm not too worried, because I get 21 months of unemployment. I start applying all around the country and I only get a few bites, but nothing concrete. One night as we are talking on the phone (as we do every night) she mentions why I don't just move in with her. And that I can keep on applying on Monster Jobs as I'm doing here in Chicago, but we would be together at least. I thought about this and thought, "Yea, why not? New beginning. The standard of living is cheaper and not to mention the peace and quiet out there. Should help my nerves to relax from the Chicago lifestyle".
March 13 of this year I moved in. I also bring my dog (Red). He's a medium sized animal, but not as large as Rufus. Things are good. A little cold still in at this time of year, especially up in Minnesota! The house is drafty, but the protective plastic keeps most of the cold out. The furnace runs a lot, but no big deal. The house is "moaning and groaning" as usual (I've lived in a lot of old houses) but we continue to watch our movies and play our Xbox games. A month goes by and things are warming up. We take some of the plastic off of the windows and open them up. One day when she is at work I decide to wash both of my vehicles out on the front lawn as the dogs play and lay in the sunshine. I also bring out the BBQ pit and start to grill out every other night for dinner. Then it starts... At the time I did not realize it, but it was the beginning.
After living there a month the weather is warmer and things are good (as mentioned above). One day I was downstairs in the living room playing an Xbox game. The windows were open and the sun was shining. It was about 3:30 in the afternoon. A slight breeze would flow through the windows, which was welcomed. I could hear the birds chirping outside, which was also a welcome sound. Suddenly there was a knock at the back door and both of the dogs get up and run towards it barking (Rufus and Red always did this when someone is at the door). I remember thinking to myself, "Crap". Because I was on a hard part of the game and didn't want to lose my "groove". So I get up, pause the game and walk towards the back door. Now, some of you may be wondering, "Why the back door?". The front of the house is a yard. The father didn't even put a concrete sidewalk leading up to the front door. So, when people drive up to the house they have to park on the side of the home. Then follow the walkway a short distance leading up to the back door.
One other thing about this "Knocking". I would have to describe it more as a banging or pounding. Picture yourself at the kitchen table then take the side of your fist and hit the table. Not with all your strength, but with some force. Do this four times with less than a half second between each hit. That's what it sounded like. As I was walking to the door I remember thinking to myself, "Jeez, that knock was a little load too." Then I thought, "Well, I did have the sound up on my game pretty load. They were probably there knocking and I couldn't hear them". I go to the door, unlocked it and opened nobody there. I thought to myself, "Can't even wait for me to get to the door, eh" and then walked to the side window to see if I could catch them before they left. I looked out the window and there was no car, only mine. I then thought, "I hope some sort of traveling Hobo didn't decide to come check the house". So I went outside to look around the house. Just in case the person decided to go around the front or other side of the house. I didn't find anyone. I then thought, "Maybe something was hitting the door"? So I went back to the back door to have a look. No tree branches even close to the door much less the house. I only found my umbrella leaning up against the wall in case I have to go out into the rain. I then went back inside to finish my Xbox game... Ignoring it.
A week later I found myself unable to sleep. So I slipped out of bed and headed downstairs to watch some TV in the living room. It was 4am. I turned on some lights and the TV and started to watch also making sure the volume was down as not to wake my girlfriend. She sleeps like a log anyway (ha ha). So here I'm sitting on the couch watching TV and an hour goes by. Then another hour. Still can't sleep and its 6am now. Then... BANG! CRASH! And the wooden floor underneath me actually vibrates. I sit straight up and think, "WHAT THE F*** WAS THAT?!". So I sit there. Moments go by and I begin to calm down. The sound came from the basement. I think to myself, "Did that actually happen?". It sounded like a fully loaded bookcase fell full force into the furnace (which was right underneath the couch I was sitting on). A mixture of BANGS and metal CLANGS, but very forceful and violent. I begin to start thinking logically. "What could make a furnace make that type of sound"? A furnace really doesn't have any moving parts that could make such a violent impact. It "Clicks" on. You hear the gas. Then you hear all the little knocks of the metal as it is heated and expands. Then the blower kicks in to push the warm air through...simple. I then got up to check the thermostat. It was switched to "off", because it was nice and warm in the house due to the nice climate weather. "What could it be?" I thought.
One thing about my girlfriend's basement. It is clean down there creepy, but clean. She doesn't use her unfinished basement like some other people do. It's not a storage place for her. The only thing down there is the furnace on one side of the basement, the water heater on the other side and the water pump. Only other thing down there is the cobwebs. So, this began to spook me and needless to say I did not go down there. I already knew there was nothing down there that could "fall over" into the furnace or anything else for that matter that could make a noise like that. The floor vibrated from the force...jeez. About 6:30am she got up and began to get ready for work. 7am she came down and I told her what happened. "You didn't go down there to check?" she asked. "NOPE." I replied. I remember she gave a little "huff" as she grabbed the flash light and went down. "Well, nothings down here that can fall over. Everything seems fine." She said through the vents. "No sh*t Sherlock!" I thought. She left for work...
A week goes by and it is now Tuesday, May 4th. Things are fine and been having some nice weather (I forget all about the furnace/basement noise). I make us a nice dinner that night (I like to cook) and we sit down to our nightly pattern of Xbox/movies/TV Shows. Then the dogs go bananas in kitchen. So I get up to check. There they both are in the middle of the kitchen barking up a storm at something on the ceiling. Nothing is there. I then realize the dog's fur is standing up on their backs. I'm actually fascinated by this because there is only one other time that Red did this back in Chicago. He saw a family of Raccoons, which he didn't like. This was different though. At that time his fur around the back part of his neck was sticking up, but now it looked like he had a Punk Mohawk from his neck along his back to the base of his tail. Rufus had this as well. I soon realized that something was wrong. These dogs are much to agitated. I then thought, "Oh it's just mice." And told the dogs to stop it. They went on for awhile and soon quite their barking and came back to sit on the couch with us. I've seen them bark like this before with mice in the walls, but never this agitated and with their fur sticking up. We soon went upstairs for a good night's sleep...
2:00am Wednesday, May 5th. BAAAAAAAAAAAAAAAAAAANG! The noise came from the corner of our room! The fully loaded dresser that is in the corner vibrated from the forceful impact. Our things on top, coins, jewelry and figurines all vibrated and clashed together. Then all was quiet. This happened very quickly. My eyes were wide open. I looked over and as my eyes adjusted to the darkness I saw my girlfriend's eye wide open as well. We both lay there. "Did you hear that?" I whispered. "Yea." She replied. Have you ever heard that before (she has lived there for over a year)? "This is something new." She whispered. I got up and turned on the light. The necklace, which she dangles on the side of the dresser mirror, was swaying to-and-fro from the impact (Lets see if I can try and describe what WE heard and felt. Imagine taking a large baseball bat or maybe two large potato sacks and using all your strength throwing them against your bedroom wall. Now it could have been the floor as well... But for some odd reason I think it was the wall in the corner).
I then walked over to the corner to inspect it. No cracks in the wall (I was hoping it was a structural thing). No holes... No damage that I can see. Nothing out of the ordinary. This really spooked me. I didn't even bother checking the doors to the house. This came from our bedroom. In Chicago I wouldn't hesitate to get up grab my bat (always next to the bed) and confront whoever is at the doors or windows. This really spooked me though. Then it dawned on me. The noises I've been hearing are "Supernatural"? We're a half of a football field away from our nearest neighbor (He is a truck driver. Never home) and a car ride to the next. We got thick woods to the rear of us and vast expanses or green grass and prairie about us. OK, I'm spooked now. Then another thought hit me. My girlfriend told me this is something "new". She's lived here for over a year and this is new to her. It seems these "bangs" started when I moved in and now this is the most powerful one yet.
I walked downstairs to the living room and turned on all the lights as I was going through all this in my head (You have to understand. This is all very new to me and weird. I believe in Science). I walked to the kitchen and grabbed a bottle of Vodka and sat on the couch. Poured myself a small glass and sipped. Thinking all this through. I started thinking about the other two incidents that I ignored. The pounding on the back door, crash in the basement and now this. Could it all be related?
My girlfriend soon came down and sat next to me. "You heard and felt that right?" I asked. "Yes." She replied. "What do you think it is?". "I don't know." She replied. "You never heard this before?". "No, never have." She whispered. I then asked her if there has been anything else she's heard in the house. She said that a few times she thought she could hear footsteps upstairs. She also said it could have been just the floor boards creaking (which is true), but she chose to ignore it because she knew that no one was in the house and that if there were something there it never hurt her. "And besides, it doesn't feel bad in here." She said. I must agree... It doesn't, but I must admit that at times it felt "creepy" in the house. Of course this could all be psychological now.
I stayed up until 6am that day and she went to work. After I woke up I went outside to make sure no large tree branches were near our bedroom on the outside. There weren't. The owners keep good care of the place and had the branches cleared well away from the outside walls of the house. And no damage that I can see. I thought about it for some time and decided to visit my parents for awhile and research this whole "supernatural" thing. I don't think I could do it at that house, not until I get a better understanding of what's going on. Especially if it's going to get worse. And especially if I'm the catalyst in some way. Besides, Mother's Day was coming up.
Thursday May 6th. I arrived at folks place (4 hour drive) and told them what had happened. My parents are Catholic and are regular church goers and volunteers. My mom got a little upset because she is very superstitious. My father is more cool headed and logical. He was an engineer for IBM and is now retired, but he is a faithful Catholic as well. He has the best of both worlds. He said he would make some "phone calls". So, from that point on I have been staying up until 3am just about every morning researching this "Supernatural" stuff to see if I can make any sense of it. I tell you what there is a lot of garbage out there, but my "BS" detector is pretty good. Been going to Barnes - N- Noble and reading anything I can get my hands on. But I was brought up Catholic and I believe in the religion. I do not practice though, but I do side with the Catholic Church. All in all this research has been very helpful.
Saturday, May 8th. My father told me he got an appointment for me to see the Exorcist for this Diocese so that I can ask him questions and also to see what he thinks. "Wow", I thought. Supposedly the Catholic Church keeps on trained Exorcist per Diocese. So, I went to the interview.
The Father was in his late 70's and had beaten 3 different cancers. And he still is a large and mentally sharp man. The interview was nothing like I would have expected. He was not at all dogmatic. In fact he was playful at times and also brought up some concerns about how the Church is treating Exorcists these days (Ministry of Healing). He asked me a lot of questions. Very few of my faith (he already knew I was Catholic). He asked me simple things such as my education, what I did for work. Things like that. He then asked for my story. So I told him. We chatted for sometime after that (which is a whole story in itself) and he told me what I needed to do. I also asked him could it hurt me. He chuckled and shook his head, "No no. We are much more powerful than they are. It cannot hurt you."
The Father's Advice: It is either one of these three things.
1) A "Lost Soul". He explained that sometimes souls can become lost at times and need help to find "their way". There are many Priests in the Catholic Church that refuse to believe this. That God would never allow a soul to stay. But it is his experience that sometimes they do and that God has his own reasons. We should not question him. If I pray to God to help any souls in the house to find "their way" this is all that is needed. And it will stop. Most likely it was trying to get my attention because my girlfriend ignored it and now it has noticed me that I noticed it. It merely needs someone to pray for it.
2) The old farmer that built the house. If he truly built this house with his own hands and lived it in along with his entire family it is entirely possible that he is there. He may be still attached to the house because it is his. He may be wanting to let you know he is there or he is not happy with what is going on in the house (hence when I moved in).
3) An evil spirit. (This is all he said)
He then gave me 6 prayers to say overnight at bedtime and also the prayer of Saint Michael. When looking at the 6 other prayers he gave me they all look like "protective" prayers. He then gave me a listing of numbers and said to get the house blessed. He told me that in order to bless a house properly the priest must actually believe that they are evicting evil, hexes, curses and anything bad from the home as they say the prayers for it to be potent. Unfortunately, many priests (Catholic) don't actually believe in exorcisms and are just saying the prayer and flinging Holy water around. It may work... Then again it may not he said. Sometimes it returns. So, it's best to find a priest that actually still believes in this stuff. And so, that was what the numbers he gave me were for. He could not do it himself because the house is in Minnesota, but the contacts are within the Diocese where I live now.
And so, I think I have read enough and researched enough and even spoken to an expert on this matter. I am feeling better about this now and not so scared. "Man fears the Unknown." That is so true in my case. BUT let's not totally rule out reason either just yet. I'm still skeptical (ha ha). I would like to ask this community two questions.
A) Has this happened to anyone (banging) and if it turned out to be Supernatural what happened?
B) Has this happened to you (banging) then found out it was something Natural/structural. What was it? Any ideas what naturally or structurally might be causing my occurrences?
Thanks for reading all! I know it was boring, but I wanted to tell it and maybe get some closure. I'll be giving and update on what happens after I get back to the house. I am thinking in a few days May 20th or 21st.