It started on the first day that we brought our son Ethan home from hospital (five months ago) (winter, south africa). In Durban our winters are very mild with no snow.
Our first night home I put my newborn to bed in our room. I double wrapped him in a very warm fluffy blanket plus I put another baby blanket on top of that. We had put him to bed in a cot next to our bed. In the middle of the night we woke to him screaming his head off. I lifted him out of his cot and unwrapped him to put him in the bed next to me. His hands, legs, feet and face were ice, ice cold. His little mouth was even chattering (we didn't think anything about it then, we were just so shocked that our little bundle nearly froze to death on his first night). So we rushed out the next day and bought him a heater. We had the heater on for a while (half a day) and the lights started flickering and the electricity kept cutting off putting us into darkness on and off that night. So the next day we left the heater off and unplugged it. Thinking that that is what was causing the lights to go funny. It still kept happening days after. We were sitting in the lounge (a couple of days after we had brought Ethan home). It was night and we were talking and all of a sudden the light outside our kitchen started dimming and flickering and then exploded. So we got up, got a bulb and replaced it. Not even two days later the new one just went out but the bulb was fine. The same thing has happened to every light in our house since then (my brothers are electrical engineers and they can't find the source of the problem).
In his first month home, Ethan was suffering from acid reflux (heart burn) and the only thing we could do to ease it was to sit him up. So we were putting him to sleep at night in his pram (because it slightly elevated him). He was fine for a week or so until we found him during the night on the floor. We had put the pram seat flat so he could sleep and we had put his breathing mat underneath him (the mat gives an alarm if the baby stops breathing). We woke to the alarm of the mat going and Ethan was on the floor on his tummy with his hands tucked neatly under his head, still fast asleep! (the worst night of my life.)
We decided to buy him a baby monitor so we could hear if he moved. We had to take it back because it didn't pick up our baby crying or making a noise. It would just let off sounds of static and another baby crying.
Our first time taking him out shopping: We came back from the shops and found that the kitchen tap was running and that the sink had filled up and over flowed onto the floor. The strange thing is the sink had no plug in it. Our house is so small (60sqm). There is no way we would have left a tap running! We would have seen it straight away. This has happened twice. Another time the kitchen tap clogged up and black coal dust came spewing out of the tap (it wasn't dirt at all). If it was to do with the water people working on the lines then we would have had the same stuff coming out of our other taps and our washing machine and dishwasher. We have had to replace the tap in the kitchen and the shower head in the bathroom because it just started spewing water from the wall (without switching it on). We got a plumber in to check our plumbing over and he couldn't find any broken pipes. He said that it looked like it had been caused by a surge of water.
A couple of times glasses of water have just fallen off the kitchen counter with no explanation. No wind, nothing.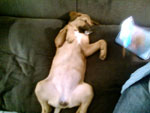 This pic was taken 3 years ago. The blue item on the couch is a matt tupperware lid. We have taken other photos of the lid to see if it reflects any glare but it doesn't.
One night about a month ago I was feeding Ethan in his room. He has a small touch lamp in his room and it started to flicker. I ignored it and put him to bed after he had finished his bottle. I went to touch the lamp to switch it off and when I did I felt something rush past me. I thought, well maybe it's just my eyes adjusting to the dark, but when I went to walk out of his room the same thing happened again. I even felt myself move out the way.
Recently we put up Advent calenders (one for Ethan and one for us). We had had them up on the fridge for a while before the first of December. They were stuck with double sided tape. The first day we opened them, we made a big fuss with Ethan and gave him his chocolate. The very next morning his one was lying on the floor miles away from the fridge covered in ants. So the next day we gave him one from our calendar, next morning both of them were on the floor. So we moved his to one side of the wall and ours to another and gave him one of his chockies. The next morning his was miles away again. So eventually after many times of picking our Advent calenders off the floor, we have left them on a shelf where nothing can move them. The strange thing is, they never fell down during the day, when the door was open and the wind could have taken them down.
On Saturday afternoon I was battling to get Ethan to go to sleep. Eventually we started playing and laughing so I brought him through to the lounge. Last Christmas we had bought a set of non-flashing Christmas lights. They started flashing, so jokingly I said, go away ghost, you aren't welcome here. The next thing our dishwasher that was on just went dead. No lights on, nothing. So my husband opened it up, switched the power button on and off again and then closed it thinking that it had backed up. As he walked away it came on again and was doing it's normal cycle.
That evening I was sitting on the couch and Ethan was in his little chair in front of me. I started to play with him and he wouldn't look at me. He just kept staring at the seat that was empty next to me. I managed to get his attention twice and every time I did he looked at me, whimpered and then stared again at the seat next to me. This carried on for ten minutes. Eventually I got my husband to sit next to me. As soon as he sat down Ethan was back to normal.
That night we couldn't sleep so we got up to have a cup of tea and a ciggarette. We had left the tv and lights off so as not to wake Ethan. While we were standing at the window having a cig we heard such a strange noise that came from the kitchen (which we were standing next to). It was almost like a low "nails on chalkboard" mixed with the rustling of a packet. My husband quickly started to search for the route of the noise. I tried to remain calm while he was frantically opening cupboards and looking under the kitchen counter. It just made both our skins crawl. It might have been nothing, but after everything we have been through, everything makes us jump now.
I feel like I'm going crazy. I don't believe in paranormal activity. What can I do to get rid of whatever is in my house? Has anyone had anything like this happen to them. Why now all of a sudden when we have lived in the house three years prior to our son being born? I have bought a sage smudge stick but reading up on it I don't know if I want to go that route because I am worried that it might invite other more serious things into our home.