I've been dating my boyfriend for two years, I had never had any sort of experience until I met him. For a while now we've had a lot of things happen to us. He's woken up with scratches, bruises etc.
Those things never overly bothered me until something that happened the other night... This is why I'm here, I don't know where else to turn or what else to do. I'm so scared for him.
The night before last he had a dream that we were in our apartment. He heard bongo drums playing in the kitchen, just in a steady, boom, boom, boom kind of beat. So he said he got up to go see what was going on. He said the mallet that was playing them was moving alone and got more vigorous as he got closer. The mallet then raised up, came straight at his face, stopped, and dropped in from of him. He bent down to pick the mallet up and as soon as he raised back up he says something, he described it as the devil, was standing directly in front of him.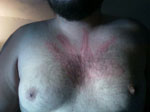 When he sees the devil, the devil grabbed his chest, and continued to drag him down our hallway. My boyfriend tried to struggle out of his hands. The devil pulled him into a dark bedroom. He said he could see flashes of his face but mostly it was dark. Anyway, my boyfriend got away and went to get a gun, but he said he shot the devil, he fell on the floor and as soon as he did the devil split into two. He says when he saw both of them he turned around into the living room and it was completely dark with candles everywhere. He tried to run out the door but he opened it and all it was, was a cavern, cave type thing. He woke up shortly after that. This dreamed occurred at 2:54 a.m.
I have noticed a lot of the things that happen at our house happen at that exact time, or 2:56. But the reason for telling the dream was, he woke up that next morning and had a HUGE, non human hand print on his chest. It looked like a burn it was so red, and whelped up. He also had 4-6 long scratches on the side of his stomach. Typically I wouldn't be so worried but having a dream with satan in it, and waking up with the markings that you would've gotten in the dream, really freaks me out. Plus, this hand print was just terrifying looking. It had a very small palm and extremely spread out and long fingers. Also, he couldn't have done it to himself because he's broken his wrists so many times that he couldn't even touch his chest the right way to see if it was shaped like his hand and it was way too big for my hand, we both checked.
I'm just so scared, I don't want it to hurt him again, whatever it is, if you could be any help, please comment or email me. Thanks