I've always been sensitive to paranormal-like experienced in my mother's house, and I've never had the nerve to talk about what I experienced until this Thanksgiving break. In chronological order, these are the experiences I've had from the time we moved into this 120 year old house several years ago up until last weekend during Thanksgiving break.
The first night I'd spent at my mother's house was a pretty hectic affair. We had just finished our renovations on the house, paint on the walls, sheetrock tape'n'mud in the laundry room, furniture moved in and arranged on our new carpet. We were all dead-beat tired, but the last awake in the house as I had spent time in our living-room, watching the TV we just installed. I glanced over through the doorless door-frame and caught the very last few inches of someone's leg and foot, moving as if they had run through another doorway into our sitting area. I got up and walked out into the hall and was suddenly surrounded by people walking in and out of the front door, through the hall, and into the sitting area. I told myself I'd passed out and was dreaming; after all, I was tired as all hell and could have easily been imagining it. Chalking it up to exhaustion, I went to bed.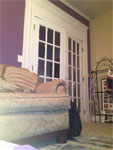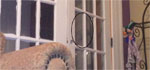 Months later, I was laying in my bed upstairs under my covers, reading a book. My attention was caught by very regular breathing-like sounds coming from my window, but I figured it was the wind, and when I asked my mother, she guessed it was exhaust venting from the mill about a mile away from our house. The breathing continued for at least an hour, but I paid no mind to it-- I didn't acknowledge it at all. Eventually, it stopped, but as soon as it did, the cover down at the foot of my bed was physically lifted and smacked back down, and I could feel the force on my foot. It was as if an annoyed child was slapping at me for not keeping him/her company, something I used to do when my mother would lay in bed and read instead of pay attention to me as I blabbed about this and that. After it happened, I felt really uncomfortable and smothered in my room, and the feeling persisted until I left my room for the living-room downstairs. The rest of the evening was uneventful, but I was still sketched out to say the least.
Again, months later, I had another experience, this one in our bathroom upstairs. I was using the facilities when there was a knock at the door. I thought it was my brother, who was living with us at the time, so I told him I was in here, go away. I finished up, went downstairs and told my brother the bathroom was open. He gave me an odd look and asked what I was talking about. When I asked he had had just knocked on the bathroom door, he said no, he was in the laundry room downstairs for the last 20 minutes, folding up his clothes and doing his laundry.
Nothing else happened after that, and I recently left for college. Last weekend, I had come back for the first time in almost 3 months to visit my mother over break. I was sitting in the living-room, talking with my ex-co-worker-friend Lindsey when I caught choppy movement in the corner of my eye, through the windows of the french doors that now separate the hallway from the living room. I asked Lindsey if she heard anyone come in through the front door. I explained what I thought the experience might have been and mentioned an experience I had not a few days prior, and she urged me to get my phone out and see if I can get anything on camera by chance. We weren't seriously expecting to capture any photographic evidence, but it always seems you get the best results unintentionally when it comes to paranormal investigations. In the photograph we snagged, as clear as any picture I've ever seen, there's a face and the shadow of a body visible on the other side of the pains of glass of the french doors.
I'd asked my mother if she happened to know the history of the house once and she told me it used to be the hospital for a private practicing doctor and his family. The upstairs bathroom was an operating room, which is still apparent to this day. The floor was tile with a drain in the middle until we scraped up the tile and replaced it with linoleum (the drain is still there); the bottom half of the walls have a sickly-greenish plastic material, and the top half is plain white plaster; and the door is exceptionally wide. The sitting room and dining room used to be hospital rooms/doctor offices while the living-room used to be the waiting room. Knowing this solidified my belief that my mother's house is active with paranormal entities, I can't imagine how many people may have died there.