Hey y'all, since I was little... I have been interested in paranormal happenings, my parents as well as my grand parents, uncle and aunt, are researchers here. My grand parents were CSI's here and most of their cases are about paranormal happenings. I know ghosts exist, because I have seen with my own eyes. I'm a very sensitive person when it comes to family and friends. So this story is about what happened the moment my mama was murdered. I'm 13 years of age now and I have no real dad or mama. I live with my cousins and my aunt and uncle (my mama's twin sister).
Probably all my friends say that I love to take risks and always end up lucky and that I love adventure, take it from me, I can't stand in one place for even 5 minutes flat. So my mama and dada decided to let me go to this camp out of the big, busy warm city and go to the cold part of Sri Lanka. On one condition, that my cousins and friends go with me. I was 11 at that time, it was the 26th of December, a hot day, it was 5 am, I hugged my parents and my brother (bleh, LOL) and we all said our last good byes. We sang and danced all the way to Nuwara Eliya and finally we got down from the bus.
I tried to call my parents but the connection sucked. So I just grabbed my bags and me and my cousins walked toward Mr. De Mel, he was the counselor in charge or something like that. I don't remember. We finally got a cabin and me and my 3 cousins managed to get into one cabin plus 2 of my friends (6 kids per cabin).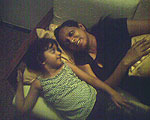 We all unpacked and we went out doors to explore. We found some really cool insects. It got dark soon, and Mr. De Mel called us into this big hall like place which was supposed to be the cafeteria. So we all had our dinner and then near the window, I saw fire flies, (I love fireflies). It was around 10 when everyone went into the woods with Mr. De Mel and Ms. De Vaz where there were these huge rocks. About 40 of us sat on low tree branches and rocks and enjoyed some songs, sherades and smores. It was loads of fun, then came ghost stories. Mr. De Mel says the best ghost stories. It was fun, then it was time to go to bed, but I didn't want to go to bed.
So me, along with my cousins and some new friends as well as old, got out of bed and caught fire flies in jars (we put holes in them so they wouldn't die) At around 2 am we all felt sleepy so we let the fire flies out, it was a beautiful sight. After that we forgot about our sleepiness and we all decided to stay up and watch the sunrise.
It was beautiful! You can't express it in words, it grew cold at around 6 am everyone had gotten up and we all went hiking on the mountains, with Mr. De Mel and Ms. De Vaz, it was great! We had breakfast at the top, there was only around 20 of us, because the others still hadn't woken up. LOL. They all had their breakfast in the Cafeteria. We walked a lot and Mr De Mel took a lot of breaks, which was a lot for an athletic 22 year old man, but the best part was that he always had a joke up his sleeve.
We finally decided to head back to camp at around 1 and we all had a wash and had lunch at around 3. Then at around 4.30 Mr De Mel sends a message to us through speakers built into every room saying that we're going to bathe in a place which he calls "the ol' swimmin' hole" Everyone squealed and laughed in joy and everyone soon got into loose shorts (we can't wear swimming suits because it was pretty cold). It was a 10 minute walk then we finally got there, it looked great! It was a lake full of clean water where you could see were your walking, it went pretty deep, but I could swim really well so we all had our chance to dive in from the deep end of the lake, it was hidden from the world, just surrounded by plants and trees; it was around 6.15 when we decided to head back to camp (oh yeah, and by the way, half the girls didn't come because they had fallen asleep after lunch LOL) As for me I hate to sleep in the afternoon.
It was a quiet night on the 27th of December, we were all very tired. So we had a quick dinner and got into our sleeping bags, the next morning, the 28th of December, was a very cold and gloomy day, it had rained at night. So we all put on our hoodies or sweaters and came out, Mr. De Mel said that we can go exploring today in the woods, (the best time to go exploring here, is after it rains and when the sun is out). It became a bit hot at around 10 am and we all set out to the woods. Mr De Mel said that we can go alone because it's not dangerous, so I began to wonder alone in the woods, because Mr De Mel gave us these things that were like party crackers except they go up high in the sky like fire works and he told us to use them in case we get lost. And for everyone to run towards it if anyone sends them off.
So I looked at the sky and the gray clouds had all gone away and it was a beautiful blue sky, I climbed up a tree which had pieces you could hold on to, I climbed up and I could see camp far away below the mountain. I saw this beautiful bird nest with 2 small ones which were light blue, black and lime green, they were so pretty. I soon climbed back down the tree and I turned back and started walking backwards looking back at what I had seen with my head up high, facing the tree where the birds were, I remember tripping and then falling head first and knocking my head on something really hard. I had got knocked out for a while; later on, I opened my eyes and it had gotten pretty dark. I got up and I felt the back of my head and it was hurting really badly. I turned around to see what had happened; I had tripped over a small rock covered by leaves and landed my head hard on a huge rock. Then I remembered that Mr De Mel and everyone else would have gone back. So I decided to walk and then it began to rain.
I was so upset, and then I checked my watch and it was 4 in the evening. I kept on walking, and all of a sudden I can hear this tree creaking. I soon realized that, the tree that creaked is about to fall down, I soon ran further, I had no clue where I was, it began rain very heavily and lightning, there was violent thunder. I ran in a direction I have no idea where. And then I ended up hiding under one of these bi trees. Then, all of a sudden, I can see this white figure from no where, I heard a female voice calling "Shenny"; I thought it was Ms. De Vaz, she was far away, and I was so tired that I thought I couldn't make it. When I got closer to her, I realized that it wasn't Ms. De Vaz at all. Instead it was this white figure, she was pretty old, in her 50's I think, but she was pretty. I felt that I had seen her somewhere before, but I guessed I was imagining things. The figure pointed to her right. And I looked there and I could see Mr. De Mel, I think he was shouting my name but I couldn't hear because of all the rain, lightning and thunder. I looked back and the figure was gone, I still remember what she wore, a white saree and a cross in her hand. I checked my watch and it had stopped. The time was 5.48 and I was like, "that's weird".
I ran towards Mr De Mel and he grabbed my into his arms and we went back to camp, he asked me several times if I'm ok and I was getting worried. He patted the back of my head and he found blood on his hand, he said "Shenny, you're bleeding..." And I said "Oh, it's ok, it doesn't hurt that much (It hurt like hell, but I didn't want to get anyone worried.) "I'll be fine Mr. De Mel" He gave a faint smile, and then we finally got back and I could see everyone outside and my cousins crying (Wow! This was the first time I ever saw them crying. 3 of them are guys and they're really tough, but this was like WOW!)
They came running to me and hugged me and started asking me all these questions. I said "Guys, I'm fine!" but they didn't believe me. Ms. De vas came running out into the rain with a rosary in her hand, she took me inside and I had a wash and I was covered in wounds, plus my head was still bleeding. So she put some medicine on my head (which was smarting to high heaven!) but I managed to forget about it. Then came the cuts on my hands and legs, they were pretty bad but I'm used to big cuts since I was really young. So eventually in the night we all forgot about it and enjoyed smores indoors with a cozy fire (fireplace) while it was raining outside.
I wasn't feeling that well so I decided to go to sleep, and then Ms. De Vaz said that I should sleep on her bed for the night. So I said ok and I took a framed photo of me and my mama, dada, and my brother, I kept it on the bedside table. It stopped raining then, so everyone decided to go out and tell ghost stories and stuff, but I stayed in and fell asleep, then I heard someone say Shenny. I thought Ms. De Vaz came to check on me, because it was a female voice. I opened my eyes and I saw the same white lady looking down at me. I couldn't scream, I tried to but nothing came out! She soon took my framed pictured and she broke the glass. Now, I was worried. She stared at the picture and then when I looked back, she was gone. That was so freaky. I tried to see if there was any logical explanation to all this, but there wasn't. The windows and doors were closed. I looked back at the picture. I held it close to me and I had soon fallen asleep. The next morning, the 30th of December, I can see everyone staring down at me and they all shouted, Happy Birthday Shenny! And I was like... "It's my birthday today!" Everyone laughed. It was 8 am and it was time to pack up to go back home. We all thanked the staff and hugged and said our good-byes.
Soon, me, along with my cousins, walked down the lane, we could see cop cars in front of our house. We looked at each other in fright,
I rang the bell and we waited until my butler (Walter) came to open the gate for us. He opened it and he hugged me with tears in his eyes. (We've known him since my big brother was born, so we trust him). He looked at my cousins and said, "You're parents would like to talk to you". And I asked him, "Walter, What's going on? Where's Mama And Dada?" He looked at me and said, "Go speak to your aunt and uncle dear". I looked at him for a moment and then walked towards my aunt and uncle, from a distance, I can see that there were 2 cops talking to them, soon they saw my cousins and they both jumped up and hugged and kissed them, I was still clueless about where Mama and Dada were. Then they saw me and they both ran to me and started crying, I could see my brother (I call him Aiya, it's brother in our native language). I called to him "Aiya, what's going on?" When he saw me he got up and ran to me, he hugged me for a while and I was waiting for him to let go, but he didn't, we were just standing there.
I pushed him away and said, "Will somebody explain to me where my parents are please?" No one answered. I tried to go inside the house and when I got to the door, the cops said I can't go in. I frowned at them, it was my birthday and why is everyone crying? And what are the cops doing here? I asked myself. I ran towards the garden where my dogs and puppies were. I went and I sat in the grass with my dogs, pretty upset. Then my aunt came and sat next to me. I looked at her, she was full of tears in her eyes. She said "I'm sorry sweety, I completely forgot to wish you, happy birthday" And she hugged me, I thought to myself (Wow, I know it's my birthday and all, but what's with the hugs? I never get so many hugs).
My uncle came too, and he wished me and did the same, I asked them again where my mama and dada were. He said, "Shenny, this will be a lot to take in, but..." (he was full of tears, and I had never seen any of my relations and family members cry like this)... "Shenny, Emily was... was... she was... knife... heart... not good... hospital... dead...5 .48..." That was good enough for me to run off down the lane and onto the road, soon my cousins caught me and I was screaming "let me go! Let go!" I had soon sat on top of the lane and started crying. (Now this was just shocking to everyone, because, never in my life have I cried in front of ANYONE. No one has ever seen me cry, unless when I was a baby)
My cousins got me up and made me walk back. Already my eyes were red and I was crying. I started coughing, I soon ran inside no matter who said what, and I ran straight to the bathroom and started vomiting. I couldn't stop. Finally everyone had come running in and were knocking on the bathroom door. I soon came out. And I just fell into my aunt's arms and started crying; we all went outside and I asked "But what happened to Dada?" My aunt said, "Sweety, he left last night for New Zealand". I looked at my aunt in shock and I ran back to the bathroom, I started to vomit again, and I didn't come out for quite a long time, then my uncle said, "You and Aiya are going to live with us now sweety..." I just jumped onto my uncle (he carries me around everywhere even thou I'm 12, he doesn't anymore thou) He carried me and I swear I could have filled a river because I was crying so much. I had fallen asleep in his arms, and he had put me into the SUV and we were on the way to their house, their house was just 5 minutes away.
I had woken up and they didn't realize. I said "So when is the funeral?". My uncle said "Sweety I'm sorry but it was yesterday, and she was cremated, that was her wish darling, and after we read her will, you officially have the house and money to yourselves, and your father got half though..." I was shocked "So did Dada leave even a card saying good-bye?"..."I'm sorry hun, he didn't leave anything". "So he just left us?"... By reading my uncle's and Aunt's face, I could tell that they didn't know what to say... But I did... "I can't believe Dada would do this to us, he said he loved us, and that he would never leave us. He's such a jerk..."
We soon got home, and I looked at the house; my aunt said, "You don't have to live with us permanently, just for a week, until things are ok to go back" Then my uncle said, "Don't worry, we'll always be a phone call away. And Walter and the others will be there too".
I got through the week and I got to see my mama's grave. When I got home, my dad called, and I said, "Hi" And then hung up, but later on I decided to talk to him... We keep in touch; what's weird is, that while I was typing this, my dad called. And he wants me and Aiya to migrate to New Zealand. We finally decided that we'll go. So at the end of November I'll be going.
Anyway, when I got home, I heard this voice saying, welcome back Shenny. And I was so sure that was my mama's voice. I checked the ground floor, and then the 2nd. I didn't go to the next 3 floors because I was too tired. So I went to my mama's bed, and I fell asleep. All of a sudden, I felt this rush of cold wind, the fan wasn't on, but the A/C was, but the A/C never comes directly from the right side to my left, I tried to make a logical explanation, but I couldn't, I soon fell back asleep.
Then, after that, I could feel someone sit on the bed. When I opened my eyes, there was no one, then I felt that some was twirling my hair, my mama always did that; "Mama?" I said. And then all of a sudden, a picture of my mama started to shake. And then the TV switched on. I was just to scared to spit anything out. But then it all stopped. And then the door opened wildly. I tried to scream, but nothing came out. I tried and tried, but it never worked. So I just closed my eyes, and then, when I opened them, I could see the white figure again. And she started to sing. And I just said "Please stop!" And she did; but she was still there... To be honest, I don't remember what happened after this, but since I saw that white figure, I told my aunt, (She's a researcher in spirits and what not) So when I told her, she had a white face, and she told me, "The white lady is your Great Grandmother" And I just said "Wow...Seriously?" And she said, "Yes" and she smiled.
Since that day, I've been seeing loads of other spirits. I go with my aunt and uncle almost everyday to check out old houses, or sometimes new built ones. Where we take pictures and after they've developed, we just freak out. I'll tell some of my recent experiences in some other stories.
But for now, Take care and Much Love,
Shenny.