This is my very first story so please bear with me. To start out my husband (M), 8 year old son (D) and I are all sensitive to the paranormal. Me and my son talk about our experiences together, and are open to the spirit world. I'll post those stories later. M is a little more guarded when it comes to ghosts due to his own negative encounters as a child.
In January we were given the opportunity to take over the payments of his dad's house since he was moving out of state. I have loved this house since I first laid eyes on it, and lived in it for a few months when my husband and I were dating. It's located in the older part of town nestled in with grand Victorian mansions. It was built in 1921 and never really had anything of note happen in its history that I could find.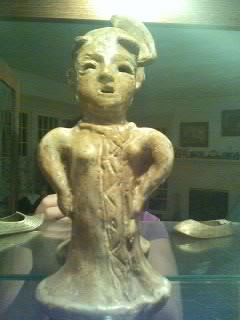 Our first night here it was around 11 and our son was sound asleep in his room, and we were in our room unpacking. I started in hear what sounded like my son running around in the dining room. So naturally I go out to see why he's up. But everything was still, I check his room and like I said, he's sound asleep. I looked in on the animals that were locked back room that connects the kitchen and the basement thinking they got out. But both of them were still there on the landing and the door was locked tight. This happened a few more times before stopping completely.
Months go by without incident, June comes and our son goes up to my folks' house out of state for the summer. I'm sitting in the the living room playing a vg when I hear this clicking coming for my right. Now, I love collecting Asian antiques and have a corner hutch there full of them. The hutch has two gifts my father-in-law gave to me before he left. An old 1941 Ouija board and a Chinese figure he claims is over 2,000 years old. I know the risk of having the Ouija board, but it is cleansed on a regular basis and no one in the family has used it. The thing that really creeps me out is the figure. It's a clay or porcelain woman with hollowed out eyes and mouth. But back to the story, this noise happened everyday at 11:11a and 1:11a and we couldn't find the cause. The only entity we felt keeps to themselves in the basement, and have never felt them come up the stairs.
One night 2 weeks ago my husband is up watching TV. He noticed the time was 1:10a and sat still watching the hutch intently. According to him a little blue jar with a broken lid shook making that sound we had been hunting for. The next morning he told me and I was shocked. We decided to fix the lid that instant. As I put the jar back in the hutch, I asked the statue to stop moving things in there and it did.
Now things have amplified in the house. Last week we had to leave to pick up our son, the trip took 3 days total. The night after we arrived home it was around 3:30 and M and I were finally relaxing in bed listening to the storm in the distance when we heard a loud crash. M sprang into action, checking on D and in every room for the source. We sat there trying to 'oh it was just the storm' but it definitely came from inside the house and there was no flash of lightning. It happened one more time but now the vibe has changed in the house.
I am uncomfortable alone in the house, like I'm being watched but I can't sense from where. I've never encountered this before, it honestly frightens me a bit. I'm sorry for this being so long just wanted to share.