So I was at my dad's a few weeks ago and I was hearing noises coming from the kitchen during the day up to around 12am. We have a "security system" in the house (okay, it's cat feeders with cameras and wifi) and I was checking the cameras from the living room (there's three cameras, one in the hall, one in the kitchen, and one in my grandma's old room, before she died) and I didn't see anything.
At around 2am I decided to go to bed. About 10 minutes later, I hear a loud thud on the floor at the end of my bed, which I ignored because tumblr is much more interesting.
Flash forward to the morning. I wake up around 11am (my dad had already been up for hours) and I'm looking at the door like, "This looks different somehow. Maybe it's just the way I'm lying?" I get up, seeing as it's nearly midday, and go to open the door to find the door handle bent, bearing in mind it wasn't like this when I closed the door to go to sleep.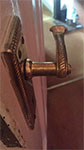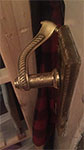 I told my dad, who then proceeded to try and bend it back into shape with no luck. It would take a lot of force to bend a metal door handle like that, yet I find it suddenly bent in the space of 9 hours while I'm asleep? (I am a quite heavy sleeper at times but that's beside the point.) I live in the UK so it's not like it melted in the heat, and the door had not been pushed open with the force to do this damage (as far as I'm aware?).
About 30 minutes later, I'm in the kitchen making breakfast and my dad calls to me from my room, where he proceeds to tell me how the bolts in the legs of my bed (the ones at the end of the bed where I heard the thud) were hanging out to the point of my bed collapsing. Now, these bolts are tough to get out using the allen key, so how have they managed to come out so easily in the night? I've had this bed for years and it has never happened once.
Update:
This happened a few days ago. My dad was in the hall with the three kittens and the light bulb exploded, and I don't mean just popped. The glass went everywhere and the power went out. This was the second light bulb to have problems in three days (the one in the kitchen popped on me a few days before).