My mother's mother had been living with my parents for almost three years before she passed away in March 2016. She was suffering from Alzheimer's for the past several years and often had strange stories to share with us. While at my parents' house, she swore there was a little boy who kept eating fried chicken legs at the foot of her bed - Grandma was found more than once peering under her bed yelling at him to come out. She also claimed a little girl with a knife sat in the rocking chair in her room and had cut her leg.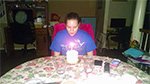 This picture was taken on March 11, 2016, one day before the first anniversary of my grandmother's passing. It was my daughter's 13th birthday. Just before my daughter blew out the candle on the cake, my husband snapped a picture with his cell phone. We didn't look at the picture in detail until my husband posted it on Facebook, and someone pointed out the strange object over the computer desk in front of the monitor. There was no camera flash, and the monitor was turned off. Because of another occurrence that happened the day after my grandmother's death, I immediately wondered if maybe that "orb" is her. I'm hoping someone can confirm what it is one way or another.
The experience I had just after her death happened the morning I got to my parents' house. My grandma had been living with them for almost three years. The morning after she died, I arrived from out of town. As I was walking to the back of my parents' house, I observed what appeared to be a small ball of light slowly drifting from what had been my grandmother's bedroom over toward my parents' bedroom.
Any ideas? Please feel free to ask questions. I have several other stories I hope to publish soon.
Thanks for any suggestions!