It all began when my daughter was around 2 or 3. I had put her in her crib for a nap and told her I wasn't going to turn on the ceiling fan because it wasn't that warm in the room. The only way you can activate the fan is to pull the chain from the fan itself which is above most adult's heads, or the switch on the wall which was several feet away from the crib, by the door. Neither would be possible for a 2 or 3-year-old to reach from her crib. Standing, her head was level to the top of the crib. The fan was absolutely turned off (the switch in the off position) as I walked out of the room.
About an hour or so later, I walked past the room and the fan was on! "What in the heck?!" I thought. I walked into the room and the switch was in the ON position. Perplexed, I looked over and there was my daughter sitting up in her crib. I half-jokingly asked her "Who turned the ceiling fan on?!" Of course not expecting an answer. Without hesitation she simply and matter of factly stated "Grandpa Breda."
My blood ran cold. My daughter was born nearly 15 years after my father died in a car accident. She only knew of him through an old photo and mentioning him rarely, in passing. She never wavered, always insisted that it was him who turned on the ceiling fan.
About a year or two later my wife and I were watching TV in the family room downstairs. We had one of those baby monitors in her room turned down but where you could see it light up if there was noise (like crying or talking, etc). We both noticed it starting lighting up. Assuming she was crying, we turned the volume up. Instead, what we heard was her carrying on a conversation with somebody. Laughing, answering questions seemingly, just what you would expect if someone was talking to her. So I went upstairs and asked her who she was talking to. She simply responded "Carol."
And thus began the story of Carol. She would describe her as blonde, older teenager or so. The first time she saw her she walked right through one of her bedroom walls which scared her. But she eventually learned that Carol was friendly and meant her no harm. Through the years she would add some detail mentioning that Carol had a little sister and brother who died in a fire and the father was very mean. She was both descriptive and adamant in what she was saying. My wife and I couldn't find any source at the time where she could be influenced by such accounts. This was long before being exposed to ghost/paranormal/crime shows.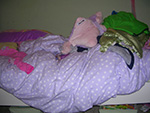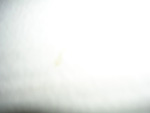 One time when we heard her talking in her room again, I asked her if she wouldn't mind taking a photo of Carol for me. With a simple shrug of her shoulders she said okay. I showed her how to operate the camera and off she went. I stood behind the closed door and heard the familiar click of the camera. Then I heard her say something, and another click. When she came out of the room I asked her if she was able to take a photo of Carol and she said yes. The first photo simply showed her room. The second however, was nearly pure white. I asked her what that was and she said that was when she asked Carol to appear. I've attached the before and after photos below.
She would see Carol on and off until she was about 10 or 11 (she's 15 now). Carol never frightened her but the man in the top hat most certainly did. She would run out of her room screaming at night, saying there was a tall man in a top hat staring at her at the foot of her bed. Poor thing was clearly petrified of something. She described him as very tall, no features, more like a shadow/silhouette with a "old style" hat like a top hat.
This went on also until just about two or three years ago. There were times we could not get her to sleep in her own room for months at a time, instead sleeping in our room or the spare room. It may be worth noting that one time as I slipped consciously out of my body during an astral projection, I too noticed a dark figure in the room wearing a hat of some sort. I didn't get a good look as it was in my peripheral and I didn't want to stick around so I quickly left the room.
Another time my daughter was taking a shower and noticed in the fogged up mirror tiny hand prints. She swore it wasn't hers and sure enough they were too small to be hers or anyone else's in our home. That went on for about a week or so. We almost had a psychic medium come out to the house but didn't have the money to spend on that at the time. To this day, we still have activity but neither of us feels there's any real demonic entities, at least nothing has happened (outside of the tall man sightings) to suggest that. However, there's no doubt we have/had spirits in our home. Including my most recent sighting, a full apparition (my first) in the daytime! You can read about that account in my story "I Just Saw A Full Apparition Ghost!" on this website.
If I had to guess, I think most of the spirit activity is family, perhaps both my sister and father at times, and possibly others. Recently my daughter asked for dowsing rods so we have been experimenting reaching out to spirits using them. We've had tremendous luck (I was always skeptical but once I tried them I was floored by how strongly they would move to either the YES or NO positions when I would ask a question). We have deduced that there is currently a teenage boy hanging around. He allegedly committed suicide in his late teens and lived somewhere in the region/State. My daughter says she has seen him in her dreams and knows what he looks like. We don't think he means any harm but we are unclear what brought him here. We asked if my sister was "Carol" and I got a hard and emphatic YES. While on one hand it would completely make sense (my sister would be a guardian angel to her one and only niece no question, and she had blonde hair and while died at 25, would likely present herself in her late teens), I struggle with the other elements surrounding Carol's story (the siblings who died in a fire, etc).
Perhaps I will get that reputable psychic medium to come out. We would love to have answers to all this spirit activity through the years that continues to this day.