My story began late August or early September 2016. The school my son goes to called us and said he was crying and when asked why he told them that "The Mystery Person" told him to hurt his brother. He said he wasn't going to listen to him though. At the time I didn't think much of it because school can be stressful for a 5 year old that has just started kindergarten. My wife and I shrugged it off as his imagination. He does play pretend with normal things like Ninja Turtles and stuff so at the time this didn't seem too crazy.
A few weeks later I picked him up from school and we went to Walgreens, on our way he mentioned that the mystery person was following us. We got into the store and he said "look daddy he is crawling on the walls! He is crawling on the ceiling!" I looked at him while he was saying this and his eyes were definitely tracking something that I could not see. I asked him what his name was, he told me "He can't tell me his name". I asked well why not and he said "Because he has no face, he has no mouth, no eyes, no nose or ears." I thought this was getting a bit strange but being a very rational person I still assumed his imagination was just running wild.
He would still talk about having seen it at school over the next month, I didn't get many details about it until probably early November when we were downstairs playing. He said he had seen the mystery person at school, I asked him where does the mystery person come from? He told me "He comes from underground and is covered in fire". At this point I began to suspect maybe there is a bit more to this thing than just imagination. There is nothing he watches or has ever seen that remotely resembles anything like he has described, he watches Spongebob and Dora and that's about it. My older son who is 7 said the mystery person is not real. This made my 5 year old upset, he reaffirmed to him that he was indeed real. Most of the time nothing happens regarding this around our house, I would say 99% of the time he is a completely normal 5 year old, he has friends, is not super quiet but not very talkative either.
A few weeks later probably late November is when it started to get very strange. I was cooking dinner and I hear him from his room yell "Daddy come look! Come look!" I put dinner on hold for a moment and went to his room, he was jumping on his bed laughing and looking out the window. He points to our neighbors nativity scene they had set up earlier that day across the street and says "Look daddy! The mystery person, he can't get past baby jesus!" Now at this point I am pretty sure there is a lot more to this thing than imagination at work. This kid has been to a church maybe 5 times in his life, although he did go to preschool at a church which is where he learned about baby Jesus. He said baby jesus was making the mystery person angry so he left.
About 3 weeks later it got worse, he was outside playing during recess and just started crying, the teacher asked him what was wrong and he said "the mystery person told me to get the sharpest metal and kill my friends". At this point the school needed to have a meeting with us to address the issue. The next day my wife went to meet with them and she finds out that the counselor had asked what him what it looks like, he told her his skin was black and he wears a hood he was very precise about it, going as far to mention that it is not like a black person but BLACK. He had also mentioned that it lives underground underneath his classroom and that is was going to leave on the first day of winter and return in the spring.
I thought to myself finally he mentions something that does not align with demon, a few days later I decided to do some research on demons and come to find out that this is actually a fairly common thing, I read about a demon and there was a line "this demon like many others will leave on the first day of winter and return in the spring". We still have no idea how he knew when the first day of winter was, he wasn't learning that in kindergarten and we didn't tell him but on December 21st he knew.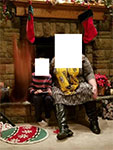 The next day I thought screw this thing, so I went to the christian bookstore and got him his own little nativity scene and a cross necklace for good measure. I set out the nativity scene in our living room and told him I got him a cool necklace if he wants to wear it. He didn't want to wear it at the time so I hung it up on the fridge. December 23rd comes and he is looking out the window in our kitchen and says "the mystery person is gone now but he will be back" he pauses and points to the cross necklace I had hung on the fridge and says "Daddy the mystery person doesn't like that". I asked if he wanted to wear it and he said "Yea" very enthusiastically. He put on the necklace and was dancing to a disney song in the living room saying "Oh the mystery person is so mad about this, he is very angry." He stops and points right at me and says "Daddy, the mystery person says I know what you are trying to do." I said that I thought the mystery person was gone now, my son told me "he is but I can still hear him". This is the point at which I think to myself screw this thing I am getting a priest in here.
I found a priest that would come do a house blessing, he asked me all sorts of questions about what books I read to him, shows he watches, games he plays, all that sort of thing. As far as I knew there were no cursed objects in the house or anything like that and I wasn't showing him any horror movies or crazy stuff so he comes over about a week later. As soon as the priest steps foot in our house my son had a message for him, he said "The mystery person wants to knock you out." The priest did the blessing everything was normal and went well I thought. Since then he hasn't been able to hear this thing inside our house.
I am somewhat worried because he is back in school now and tells his teacher the mystery person is underneath the classroom sleeping. There are a few other details we have received about it. It has glowing red eyes at night, has a shield of fire, he said something one time about its body having "like ornaments" around it, and that it tries to be sneaky. He sees a psychiatrist that has ruled out the possibility of him being crazy. The school counselor says something like this is way outside the pretend range for a 5 year old and she also has seen him track it with his eyes. I have no idea what to do, he has asked us to make him go away, he learned himself that if he shows it jesus it gets mad and runs away, we never told him to do that at all.
I am 99% sure this thing is real I just have no idea how to explain to a 5 year old what it is he is seeing. On Christmas eve he was in the car and started laughing, he told us God gave him a present that means God will protect him and that he belongs to God now. I asked to see it and at the time I had no idea what it was, it looked like a tiny medal with a cross on it. After doing a search we found out it is a St. Benedict medal. St. Benedict I guess is the protector of school children and protection from demons. We started taking him to church and he sees it outside of churches, I asked him what it is doing and he said "he waits to attack someone when they leave here". For now it's been quiet, nothing new, but if it comes back any advice would be appreciated.