Over the past few years I have come to believe that I am a haunted person some type of entity ghost or whatever you would call it has been following me around. The first time that it was noticed was after I had been divorced and I was living alone. It could have been happening for a lot longer but I would not have noticed as we had four children and nothing was ever where I lay it down. It was all the normal things you would hear in a ghost story; creepy feelings, shadowy figures in the corner of my eye, footsteps Upstairs Downstairs on the stairs LOL. To add to it lots of small things were and are going missing some for minutes, hours or days, some things have not been found yet.
I thought I was going crazy I was even considering making an appointment with a psychiatrist.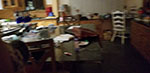 Several weeks ago I decided to augment my memory and take pictures in general of my house just to have a record of where things were. I did get photos of stuff that wasn't there shortly before taking the picture or had been moved from their original positions when I suspected that something had been moved and was confirmed by the photograph but that's not really real proof of anything except to me and even if I could have a faulty memory LOL. I found that even though I was positioning myself to take the pictures and holding my Samsung S8 steady to get a good picture that out of every 15 pictures, two would be blurry.
As I write this I am hearing footsteps upstairs and random noises throughout my house that are just not normal lol.
Two nights ago I was going back through my pictures and I found one with a very creepy looking face of something that definitely wasn't there when I took the picture. I am not sure how to upload it to the site. I will find out to add it to my story I'm very interested to hear what people would think of the picture.