July 2007, I went to my fiancés hometown of Shaunavon Saskatchewan, to visit her family. Shaunavon is a town of maybe 2000 people. Could be less for all I know.
I remember her telling me about the two hotels in the town that were really haunted, both of them are not in business anymore. However renovations have been going on in one of the hotels for a few months. The other is falling apart and could collapse at any time. The woman that used to run the hotel, lives in one of the rooms. She's told us some really creepy stories, like when she's sleeping she'll hear footsteps going down the hall, doors closing, you name it.
We didn't ask for a tour, just because we were scared of a floor collapsing beneath our feet, more so then running into a ghost. One night we decided to break into the smaller hotel that was being renovated.
First I'll give a little bit of a history lesson about that hotel. There was a fire that killed 3 people, way back when it was still a fairly new building. Also over the years there were three murders that took place in the building. We were excited, and at the same time, just a little scared.
While it was still daylight, we went around the building to try and get some pictures of the ghosts. We managed to capture two in the same shot.
In the window on the top floor it looks as if a man wearing a coat and a bowler hat is standing right in the window, and at the front door, it looks like a short chubby man is standing there. You can really see the man in the door quite clearly. You can make out his facial features, when you zoom in.
It wasn't until we got back to my fiancés mothers house when we saw the pictures. We loaded them on the computer to get a clearer look and we were very excited about what we managed to capture.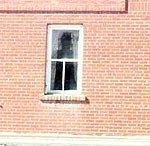 Finally 10 o'clock came and we were ready to go. We got a few of Geri's friends together, and we headed over to the hotel, each of us armed with a flashlight. I was in charge of filming, and Geri's friend, Matt was snapping pictures. We snuck in through an old cellar door on the back side of the building and turned on our camera's. As soon as I turned my video camera on, the battery level slowly went from full, right to empty, then shut off completely. Matt said that he had the same problem with the still camera. I had left both cameras to charge all day, so they were definitely fully charged.
We just brushed it off and continued our journey through the hotel. We got up to the main floor and walked around through the small kitchen and foyer. Nothing really intense happened, just cold, which was obvious. We made our way up the stairs to the room where we thought we captured the man standing in the window. This room gave off a bad vibe, and none of us felt comfortable. We all sat in different parts of the room and stayed very quiet to see if anything would happen. After a few moments of silence, one of Geri's friends jumped right up to her feet and screamed. She said something brushed up against her arm and she heard a whisper, but she couldn't quite make out what it said. We stayed in the room a little while longer, and I heard a sound from the end of the hall. It sounded like a coin being dropped into a vending machine or something. I asked if anyone heard what I heard, they all shook their heads no, and I got up to check it out. I poked my head around the door, and at the end of the hall there was a very old coke machine. I don't know the exact date, but it had the bottle opener on the side of it, and it was only 5 cents.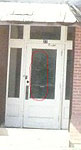 I stared at the machine for a brief moment, and I heard another scream from the room where everybody was. They came running out in a panic. Geri grabbed my arm and said that a glass had just fallen from the bedside table and they heard a tapping sound on the floor. I could tell Geri had had enough so we made our way to the main floor and out through the back door. I checked my video camera once we were outside to see if it had started working again. It was working just fine, I watch a lot of ghost hunting shows, and this is a common problem that ghost hunters will run in to. I asked Matt to come back in with me to see if he would snap some quick pictures.
The minute we stepped in the door, the cameras shut off. Go figure. A loud bang came from upstairs, followed by another, and another. It sounded like each door was being slammed shut, one by one. Matt and I turned right around and made a B-line for the door. Even when we got back outside we could still hear the doors slamming.
We went back to Geri's house to watch a movie and talk about what just happened.
Last month (July 2008) we went back to visit her family again, and the hotel we had visited was having an auction. Everything that was in that building was up for bidding. There was some pretty cool stuff. I managed to get an old letter that a soldier wrote home from Germany in World War II, A few boxes of shot-gun shells from 1935, and that old coke machine... Which sits in our bar/rec. Room in our house. We haven't experienced anything with the machine since we brought it home. No sounds of nickels being plunked into the machine, or the sound of a bottle falling. I'm kind of disappointed, but at the same time relieved. Perhaps the 'thirsty' soul has gone on to the other side.
Thanks for reading,
And God bless.