I bought my first home less than a year ago. About two months into living there I woke up and and turned around for some reason to look at my bedroom door. The door was completely open (which it never is I always sleep with it closed) and there was a kid maybe late teens early twenties with a punk rocker look standing there pointing at me. His skin was ashen, and he spoke but I couldn't understand.
For some reason I wasn't scared really, more like confused and I said "what" and he said something else, one word, I think, as he still pointed. At that point I realized I was awake and became slightly alarmed so I closed my eyes to try and shake it off and when I looked again he was gone. I fell right back asleep and when I woke up I remembered what had happened and looked at my door, it was open the same way it was when I saw him standing in front of it.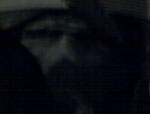 A month or two ago I was taking a picture of a guitar I ordered for my daughter, it came out as a face, I would like to explain it as a light reflection but it is an obvious, almost "demonic" looking face. This is all that has happened. I am hoping one was a dream and another was an accident. I am no stranger or non believer. I lived in a farmhouse for a year as a child that was 110 years old, my sister and I would hear footsteps upstairs, our stuff would move, especially religious objects, and be hidden. The power would inexplicably turn off and on, I was even injured in an odd manner by walking up the steps. But we did not live there long.
Another thing that happened to me was that two years ago I woke up and could not move my body or talk or even open my eyes it was like I was paralyzed. I felt terror. It only lasted a minute or so then it was gone. I just wanted to share these things in the hope that I am not alone. Most people I talk to about it don't have even close to the experiences I have.