This morning my dog was attacked by a ghost.
I want to share my story hoping that someone out there can help me make sense of this.
This morning after spending the night out I walked into my apt with my t-cup Chihuahua. My dog immediately starts barking at my bedroom and hallway area like she always does, so to be cautious I checked all the closets and bathroom to make sure we were alone. After doing that I left her in the bedroom barking and I go to the kitchen to fix us breakfast. While I'm in the kitchen I hear a loud bang and shuffling and loud thumping coming from the bedroom, also hear my dog yelping very loud as if someone had just hit her. A second or two later there's complete silence.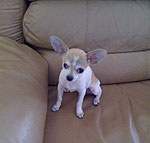 I didn't know what to do; I was so scared for my life. I thought someone had killed my puppy and now they were coming for me. So my first reaction was to run and open my front door maybe my neighbors could hear my screams in case whatever attacked my dog was coming after me. Seconds later I decided to run back into the house towards my bedroom to find my dog, when all of a sudden I see my dog running out of the bedroom for the front door shaking like a leaf with her tail and ears tucked in. I was so afraid for our safety.
After a minute, I gathered my strength and walked back into the bedroom but everything was untouched. I just moved into this apartment, so I don't have any furniture or any kind of hard object that could have fell.
Whatever is in here is evil. I immediately grabbed my things ran for the front door and left my apartment for the day.
I found out from the maintenance guy that the tenant who lived here before me was a Vietnam vet who drank heavily and passed away in the bedroom area about 2 weeks before I moved in.
I wish I was making this up guys. I said a few prayers and did several Cuban rituals to bring back peace to my home.
Please help me. What should I do?