Since I was younger I have had a few experiences with the paranormal in different houses I have lived in, from seeing figures, orbs, hearing noises I even had a pounding noise follow me around the house coming from the basement. I will admit I was a little freaked out at first but fear faded and interest took part. Just recently I started playing with an EMF reader I borrowed from my mother, trying it around the house we live in now.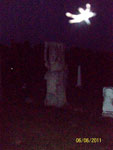 My other half and I have picked up readings from personal items that belonged to his deceased father and the urn in which his fathers ashes are in. I have even taken pictures and gone back and looked at them later only to see nothing out of the ordinary. So yesterday I suggested that we take a walk around one of the cemeteries in our town of Argenta Illinois, when the sun started to go down. We picked Friends Creek Cemetery and I'm really glad we did, though nothing was picked up on the EMF reader I did manage to get a few pictures with Orbs in it. I will post them if its possible.
One picture however stands out the most... I was in the oldest section snapping pictures with the flash on. For some reason the flash didn't go off but I did manage to capture Orbs flying or floating if you will in the air around some of the stones. We would of liked to stay longer but getting eaten alive by bugs is no fun. I'm thinking that if I captured them there that I might have some luck at the other ones as well... Well at least I am hopeful! I would like someone to take a look and tell me what they think please and thank you!