My encounter took place at a farmhouse in Lammington National Park (WH), Queensland, Australia. The farmhouse is very old, around 100 years old (I think) and was previously owned by the O'Reilly family - one of whom is famous for his rescue of the survivors of a crashed plane.
The house is regularly rented out to holidayers and I have stayed there on several occasions. On my last of these several years ago, I swear I saw something which I can only guess was a ghost.
As anyone who has ever been in the country will know, it gets very dark at night. This, plus the layout of the house, made it a great place to play hide-and-seek-in-the-dark. STOP LAUGHING IT'S A GREAT GAME.
I was the seeker and decided to search in the main bedroom. There was a fire in the room opposite so I could vaguely make the contents of the room. However as I entered I suddenly stopped as directly in front of me a pitch-black shape appeared out of thin-air.
I can't specifically describe the shape as it didn't seem to have a distinct edge and seemed to be constantly changing. It was however roughly my height and width. The thing itself was completely pitch-black, despite the fire behind me. I could also make out the contents of the room on either side of this thing.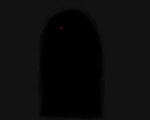 Almost as soon as it had appeared a very dark red point of light - where I imagine it's right eye would have been - appeared and began to grow brighter.
At this point I felt no fear, merely surprise and confusion at its sudden and unexpected appearance. I had never before seen anything like it. I did however decide that I no longer wanted to enter that room and so quickly walked backwards out of there. As I did so the red eye began to fade again and the entire thing vanished.
After having explored the rest of the house and finding all but one of the hiders, I decided it was time to search the main bedroom again. This time, no strange shape challenged me and I quickly found the last hider on top of the wardrobe. Thinking that what I had seen could possibly have been him, I asked if he had been there the entire game, to which he said he had. It was also obvious that there could have been no way for him to have gotten up or down off from that wardrobe without making enough noise for me to hear him from anywhere else in the house. It is only a small house but is very cluttered and very rickety. The floor creaks at every step.
I don't know what it is I saw that night and I honestly have no interest in finding out, I just wanted to share my experience with others. It was an amazing experience and makes a great camp fire story.