When my mom was a baby and my uncle and aunty were still young, they lived in a house with my nana and granddad. They moved in one year not knowing it was haunted. The story behind it was a woman tried to kill her two children, but she didn't succeed the first time, so they gave her kids back and she succeeded the second time by smothering them with a pillow. She was locked up that was about 40 years ago.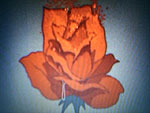 One night, something started to happen, the house started to groan and all you could hear was crying. It woke the house up. The very next day, strange things started to happen, like the dog wouldn't go in this one room where my mum slept. My aunty and uncle started playing with imaginary friends, the ghosts were naughty, they tried and push my mom's pushchair down the stairs and slapping my uncle. My nana said my mom used to look at the window and point to the wall. When my uncle was later asked, he said we were playing with the children who used to live there and what my mom had been seeing is the children going through the walls.
People stopped coming to the house and eventually my nana went every day to the council and got a new place. The house go pulled down, no one wanted to live in a haunted house.