I notice that most of my experiences happen around the evening. From the first time I saw shadow people as a child to now, I've tended to see, feel, or hear anything nearing 6pm into the wee hours of morning. One night I was sitting by myself at my laptop and felt someone touching me once more. I've become accustomed to this over time that when I am alone, the stalker will remind me of his presence. I felt someone once again whispering behind me, resting a hand on my thigh or my hand, and then laughing.
After a while I went to bed and had a dream that I was laying in bed in the early hours of the morning and saw a dark gray, sheer form appear overhead. When I propped myself up in the dream, the face started to form and I saw a young man's face perhaps late teens to early 20s. It looked like a much softer version of the Stalker. I could only see about half of his face. At first it didn't look like the face I had seen before but I am still not sure... Then again who else could it be? I am just going to assume it's him. It's face slightly resembled his but was a bit softer or happier looking. I was looking in a mirror talking to this apparition about whatever. This was in sharp contrast to the last dream of him being extremely angry over something. It was extremely peaceful. I can't remember the exact conversation. I just woke up and it was early morning.
The next night, I was in the kitchen washing dishes and felt something tickling my neck. At first I assumed some stray hairs must have fallen out of my hair bun. I felt something touching my neck once again and it honestly felt like a hand lightly grazing me but I just ignored it. I try to avoid jumping to the "it's a ghost" conclusion. But then I distinctly heard and felt someone kiss me. I turned around and saw no one there but still felt the presence. I attempted to do a cleansing recently but felt extreme pushback, however, after that I have not felt hostility from the entity whatsoever. So maybe it kind worked? Or maybe it has shifting moods, I don't know. I can't remember the entire experience but I suppose the day before of us apparently talking led to it being in a better mood.
I was talking to another user on this site about whether I have anything antique. We don't have any as far as I know but I do have this necklace from 8th grade that was given to me by my art teacher. She knew I liked old stuff being a history buff and got the necklace from her neighbor who found it in their yard. So this would be New Jersey in Essex county/Bloomfield. I am going to attempt to put the photos in here: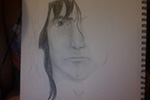 I apologize if the image isn't clear enough. It's the best I could do. Including, part of the face is scratched off. It's a little tintype so it must be from the 1800s. When I first had it I thought it was a young girl with her hair parted and tied back but now that I look at it, I think it might be a young boy with his hair parted. But the entity that has appeared to me has kind of shoulder-neck length, dark hair and is perhaps in his late teens or early 20s? I am guessing early 20s but I suppose he could be slightly younger like 18 or so, which would explain why he's attached to me. He has pale skin and wears a dark suit that looks more 19th century styled. I suppose he's tall but I'm like 5 feet tall and 90 lbs. So anything that's average height is tall to me. I can insert a drawing I attempted to do from memory. It's incomplete.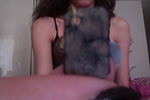 I don't remember exactly what happened first, getting the necklace (so an entity might have been attached to it) or the events. I also don't want to dump the necklace because I really like it. I don't want to throw it away and have the problem still persist. I am not really sure what to do.
This also happened in New Jersey. My mom had a phone and one time she was looking through the photos and noticed that there was a picture of a figure with a black cloak on. It frightened her to death. She doesn't have that phone anymore as it was a while ago but I still remember it vividly. I remember looking at it and wanting to pretend I never saw anything.
Just recently I had a dream and sat up in my bed and saw a pale man with a black cloak obscuring much of his face. I completely understand that this is not a dream interpretation site and that dreams are only included if they are tied to paranormal events. And because of the phone event, I believe there was more to this than being just a dream.
Because of these experiences part of me believes that the origin of this Stalker comes from my Shadow Men stories. I do think it is possible that the necklace brought this thing in but another part of me lately has been thinking that maybe this entity has existed in my life far longer. I have recorded my experiences in my other stories such as The Shadow Men of San Diego. I have include the pictures of the necklace and these stories because I think it is entirely relevant. I suppose it's possible that the Stalker and Shadow Men are separate experiences but I am not entirely sure. I've had entities in my life for a very long time. My mom has had plenty of experiences so maybe this is something that runs in the family.
My question remains though: Why have many of my experiences been dreams and followed or preceded waking experiences? Whenever I have attempted a cleansing of any kind I get headaches or pushback regardless of how much light I let in. I feel bad because I don't think I am able or strong enough to do something like that. It's to the point where I'd rather accept this ghostly guest because nothing bad has actually happened and I feel like I'm a pretty weak person. If anything else happens I'll update this. If any experience outside of the Stalker happens I can share that as well (it'd be a fresh breath of air). Thank you for reading.