Note this will be very short.
So this just happened recently and as I am typing this, I feel like something is outside my house. Not only that, the cameras in the house keep rebooting and the displays keep going to black.
So a little backstory, I'm a 20 years old and while I may be a person who that is friendly and prefers the cute pastel theme, I have a huge interest into the paranormal. The irony of it, however, is that if I even see what seems to be a face of a ghost, I'll run screaming. I'm also from a family who believes in ghosts and are religious.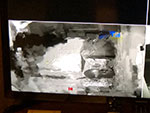 Since we believe in the paranormal, we also believe cameras can capture ghosts in action. The cameras at my home have captured a few ghosts, or at least the interference they were causing to the camera.
Anyways, to the story:
So just a while ago, I was just bringing together my work application, my college transcript, and my recommendation letters to apply for a job at the college I was attending.
As I finished filling out the application, I noticed something really strange on the camera display.
A FACE. A FREAKING FACE.
Or at least an implication of a face. The interference on this camera was strong, and I was freaking out.
That is not even all. While the face freaked me out, before that, my mom and I also saw a "red dot" that just turned into a "squiggly line". Afterwards, the camera captured a ghost that appeared to be "dancing". I jokingly called the ghost the "Dancing Man" for that reason.
But that face, was it the "Dancing Man"'s face? If so, why does it show its face onto the camera like that?
While I do not have a picture of the squiggly red dot, I do have the picture of the face. I don't know, maybe it was a glitch in the camera system, but then why does it resemble a face?...