This is a photo I took, using a disposable camera. I was visiting the "Old Waverly" cemetery, here in Texas; photographing graves for a cemetery photo book, that I was working on. As you can see, where the picture was aimed, it's not really focusing on any particular grave. When I had finished taking pictures with my digital camera, I took out the disposable camera to shoot some pictures, to send to a friend.
Well, as I walked around, looking at what to photograph next, something just compelled me to stop between these trees, and take a picture. It was a weird feeling/experience to come over me.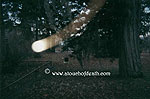 When I got the film developed, I was surprised to see this large glowing orb. To me, it looks like a comet jetting through. I've posted this picture on another paranormal site, and took a lot of "abuse" over it being a strand of hair or dirt.
Well, I have extremely long hair (knee-length) and when I am photographing something, I make sure to pull my hair back, to prevent any strays from getting in the pictures, as I had done that day, since after all, my digital pictures where being used in a book, so they had to be clear and professional in quality. One person commented to me, that it's a blond hair in the picture; my hair is dyed burgundy, not blond.
Also, if you notice on the "tail" of the orb, you can see through it, now if it was a hair, I would think a hair would be solid, you wouldn't see the tree limbs through it. And lastly, it was a cloudy day, raining on and off (but it was not raining anytime during the photos I was taking); the sun wasn't out, so I have ruled out, that it is not a sun spot.
I just found it interesting, and was thrilled to see it appear, (since I was strangely compelled to take a photo at that moment in time). Perhaps it was a spirit following me around the cemetery?
~Michelle~
Email : atouchofdeath [at] gmail.com