As I mentioned in my previous posting, last month a friend and I took a trip to Ireland. Both of us took many pictures in the ten days we were there. About two weeks ago my friend was visiting with me, and we decided to look at the pictures in my camera on the TV. My friend likes to "zoom in" on the pictures to see the details -- and WHAT a detail she discovered in a picture of me that was taken the first day we arrived...
We had just driven through The Burren in County Clare, and were driving into County Galway. Along the road we spotted a few cars parked along the side, and curious, we pulled over to see what the other people had stopped to see. It turned out to be a very big and beautiful Faery Ring. Some other women we met there said to me, "You can really feel 'them' here... " To make a long story short, my friend took a picture of me with my camera sitting in the Faery Ring, and then we continued on our way into Galway.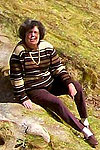 The picture was originally a long shot, to get me surrounded by this particular site. But when we zoomed in on the figure of me on the TV two weeks ago, we saw what looks like something climbing up behind me over my head. On close inspection you can actually make out a face, and an arm. I felt nothing at the time, and my friend saw nothing unusual when she took the picture. Needless to say, both my friend and I were shocked to see what we saw in the TV close-up.
I'm sending along a copy of the picture, as close-up as I could make it without distorting anything. I can say now, this picture is not as clear as it was on a big TV screen, but you can see that something -- or someone? -- is definitely there on top of my head. My friend and I checked carefully to see if it might have been a trick of the light or something, but we could not see anything other than what it seems to be. Any opinions, anyone?