My story is about my mom who passed away February just gone. My mom and I were close. We were the ones who left in our house in Marikina as most of my siblings were gone to work abroad and had their own families, and my dad often went home. My mom and I also shared the birthday 4th February. I'm just happy that at least I gave her my last gift.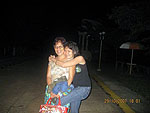 I didn't really believe in ghost since I had never seen one. Nine days after our birthday 13th February, my mom died. She had very high blood pressure. On the third day of her funeral my friends came over to see me. We were talking to each other, when half way through conversation one of my friends asked me "bat' ka nanginginig?" (Why are you shivering?). I just told them that I was cold. They were obviously hot as I could see them perspiring. I was also nowhere near the air conditioner. One of my friends went on to say that maybe my mama was trying to hug me. She also stated that a dead person will realise that they're dead in her third day. So if it's really true I'm glad that I felt her presences somehow.
Another incident that happened two months after her passing happened to my sister.
It was 12 noon. My new born niece Lyan was crying and my sister was just looking after her. When out of nowhere the room was suddenly full of a fragrant smell. The aroma filled our room. The room where me and my mom used to sleep. My niece suddenly stopped crying and my sister told to her daughter "mama's here baby."
Mama didn't have a chance to take care of Lyan, so maybe she wanted to come and play with her.
It's sad that they never met personally.
I MISS YOU and I LOVE YOU MA!