I want to let you know that I am a young woman with the hearing loss (meaning I'm partially deaf) so please bear with me and my English skill since I am only using the Sign Language but I will try my best to explain my ghost experience.
Ever since I was a toddler (about 5 or 6 I don't remember), I've had many strange experiences and I remember I was living in an old apartment building with my parents (when they were still together) and this apartment only had one bedroom and one bathroom. You see, my parents tend to sleep in the living room on the futon while I was sleeping alone in my bedroom since my parents wanted me to learn to do it on my own and like the other kids, I would feel scared to sleep alone. I still remember the fear of the darkness and I would cry to my mother about it and she would tell me about my favorite heroine, Sailor Moon, helping me fighting against the darkness to calm me down and not just that, she also gave me the toy, Sailor Moon's wand, and told me to use it whenever I feel scared. That helped me to sleep good.
Anyway, there was one night and I was forced to go to bed alone but this time with a night light and Sailor Moon's wand and many stuffed animals for me to sleep with. I was just lying on the bed, looking at the ceiling, trying to sleep until something (or shall I say someone) got my attention from the left side and turned to see what it was out of my curiosity. It was a shadow... A pretty harmless shadow, looking at me and I got scared. I mean, it wasn't a solid shadow or anything, just a "human's" shadow in the wall and I am pretty sure my parents weren't doing it on purpose and they were already sleeping. The door was opened a bit, just a crack, so I knew it couldn't be my parents and the shadow was facing me from the other side of the room (across from me? Sorry, I'm not so good at explaining things) and it happened so quick like for a minute, or less than minute when I was looking at the shadow, scared. Then I pointed the toy wand at the shadow and clicked the button on the wand to make a sound (I feel silly when I remember this part) and the shadow just "swooshed" to the trash can filled of toys (I wasn't kidding) and a teddy bear, that was lying on the top of the trash can's lid, fell off. I took a quick look at the trash can and got off the bed and ran quickly to my parents and explained what just happened.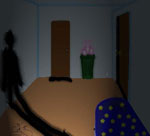 My parents didn't believe me and because of my hearing loss, they thought it was just a heavy imagination since I possessed a talent of drawing and imagining things. I was annoyed and showed them what just happened etc and they told me to ignore that and assured me that I was probably scared and started imaging things like most kids do. I knew I didn't imagine it. I was pursuing my parents to sleep with them from now on and they finally gave in.
I slept with my parents after the event (about a week later) and I remember I was in the middle of both my parents on the futon, sleeping, in the living room until "someone" woke me up by nudging me and I woke up and looked at my parents, thinking they did it and they were still sleeping so I looked around just in time to catch the light from my bedroom (the door was opened at the time) turning itself off so I got scared and covered the blanket and forced myself to sleep, telling myself that I would be ok with my parents.
The next morning, I told my parents about what happened and again, they didn't believe me.
And there were times (during daytime) when I caught my toys being played by themselves and an ancient clown doll given by my father tend to bother me by moving its head (that was when I developed my fear of clowns) and I kept seeing the shadow swooshing around in the bedroom and sometimes in the bathroom. I think my father had seen it but he just won't admit it. Even my kitty, Fifi, (a month after the shadow event) chased after something that we couldn't see and would meow at the wall in the bedroom. And due to complaint about the electricity bill, weird noises and everything, my parents and I moved out of the apartment, including the loss of my kitty. I was still scarred of those events in the apartment. And I still miss my cat, Fifi. (But it is so weird when I see my Fifi again in years later, I will post another story about it) And I still have more stories to tell.
Sorry, the story was long.
P.S. The shadow was an adult and I don't even know if it was a female or a male because it won't show its sex. It was only showing its full body in the wall, it was kind of weird. And no, no red eyes or anything. Just a typical shadow. I shuddered when I thought of it. I am not sure if the shadow was evil or not because it did nothing wrong but I was always scared when unexpected things happened so yeah.