I have recently returned from a vacation to Europe where I found many orbs in my photos and must admit didn't have a clue about them until I started to research them and was delighted, as the reason I was in Europe was to verify information given to me a few years prior from a very interesting visitor. To say the visitor was unique is an understatement as my visitor was not of this century. In fact, upon closer questioning and realization, my visitor was from the 13th Century.
This story in itself needs a book devoted solely to this incident, (which I am in the process of writing) but I wanted to share some of the highlights with others of the same mind set. During his visit six years ago, which lasted for a period of 4 months, I asked many questions and was showed many things regarding his life, death and the reason he was here. I was also shown castles, churches and events which I have since found and visited and can without doubt say, I now understand that this person had shown me the truth.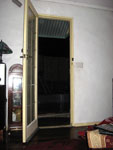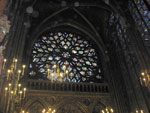 One such chapel shown to me by my visitor, took over two years for me to locate as the image was burnt into my memory because the chapel was so striking with its circular walls in front of me, made entirely of stained glass windows. I finally found out the name of the chapel, St Chapelle and its located in Paris. I wasn't sure of the significance at the time but since returning home from my european vacation which included a visit to this chapel, it was here that I found my first real orb and believe it to be him. I will include this photo in the hope you can see him as well, by enlarging the biggest "orb" on the left of the window. I'm also including another photo that has a lot of significance, as one of the questions I asked my "visitor" was the life span left on our beloved Alaskan Malamute, and was told 2 years. He was right with our pet of 14 years passing, when told he would. This was three years ago.
You can imagine my surprise when I took this photo a few weeks ago, you will need to enlarge on the biggest but very feint orb located on the ground. I know what I can see and hope that you can share in our surprise.