First of, I'd like to say that I've had multiple minor brushes with the paranormal, but this event stands out most in my mind and even when I see a picture of "her", I still get the goosebumps. As silly as it may sound, my experience is set around a '95 Mitsubishi Eclipse GS-T.
Let's go back to the beginning of the day first. It was a Sunday in October '10. I was living out in Missouri at the time and I was waiting for an engine block to arrive for my car (it was coming from Alton, Il, an hour from where I was living). My buddy came over and wanted me to go look at a car all the way by Decatur, Il, but since I didn't realize how far it really was, I agreed to go. After my block arrived, I locked it in the garage and went with my buddy and his friend who has a '96 Eagle Talon Non-Turbo (same as the Eclipse). We arrived outside of Decatur a few hours later (after getting slightly lost). I get out to look at the car, which had a dead battery, so as the owner was getting a charger on it, I decided to look the car over, starting with the Turbo because she wasn't producing boost. After finding major shaftplay (think of a bicycle crank with freeplay), I told my buddy that her Turbo needed replacement. When it came time for the test drive, I had difficulty driving as if the car was trying to "hold back", yet when my buddy drove her, she was fine.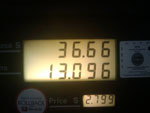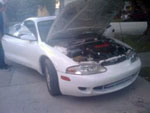 Fast forward to about 12:30am (after the Non-Turbo Talon's upper radiator hose split like a potato and finally getting her to a rest stop for the night an hour outside of St. Louis), we pull into a gas station to fuel. While my buddy went inside to pay for fuel and snacks to keep us awake, I sat in the driver's seat waiting for the pump to stop. As soon as I stepped out to stop the pump from exceeding $40, I hear a 'click' from the handle. I look at the pump to read $36.66. At this point I was freaked out a little. (I have a picture of the pump, but not sure how to load from my phone). I showed my buddy and he had the same expression as I did.
About a week later, my buddy brings over a wastegate (used on the Turbo to regulate boost) for me to replace on his car. After explaining that it wouldn't fix his problematic Turbo, he wouldn't listen, so I decided to replace it to show him. The factory wastegate is held on my 2 bolts and a cotterpin. Somehow the car burnt my entire arm even though I barely touched the exhaust manifold on a small part of my arm by my wrist. Since then I haven't seen her since I moved to Oregon, but the characteristics that she showed me during the little time I had, kept giving me an eerie feeling of being watched and not 'well liked' as if she was a demon in disguise and it still sticks out in my mind.